Summer Activities in Banff, Alberta
Banff in Summertime: Warm Temperatures, Blue Skies, and Daylight that Seems to Last Forever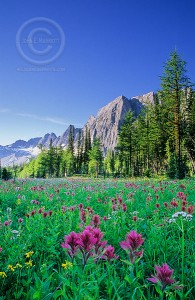 Banff, Alberta and Banff National Park are among the most popular summer vacation destinations in Western Canada, as well as all of North America. Our high latitudes coupled with alpine elevations make this part of the Canadian Rockies ideal for summer fun: sweeping alpine vistas, clear blue lakes, verdant forests and mountain meadows filled with wildflowers. All this under a crystal clear Albertan sky.
Despite the amount of precipitation experienced in the Canadian Rockies each year, the humidity during the summer months is low, particularly in July and August. Temperatures are nice, with average highs between 21- and 22-degrees Celsius (or about 70- to 72-degrees Fahrenheit, to you Yanks). And in summer in the Canadian Rockies you've got plenty of daylight for outdoor recreation (we recommend a Kicking Horse white water rafting adventure) – at the summer solstice it's still light out after 11 p.m.!
Just a word of advice about summer in the high latitudes and elevations to be found in Banff National Park and throughout Western Canada: the UV rating in Banff National Park tends to be high. Between the altitude and the angle of the Sun people burn easily: sunscreen, sunglasses and a good wide-brimmed hat are a must when you hit the trail, hop in the boat, or hit the links for a round of golf.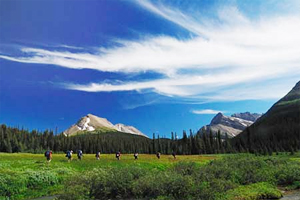 Want your very own Canadian Rockies trip? Try a private guided backcountry skiing, ski mountaineering, ice climbing, rock climbing, hiking, or backpacking trip.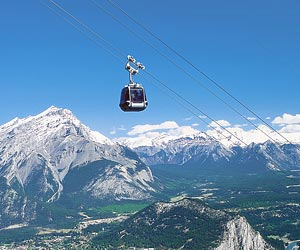 Operating in both Lake Louise and Banff, gondolas are a great way for the whole family to partake in scenic mountain beauty and Canadian Rockies wildlife.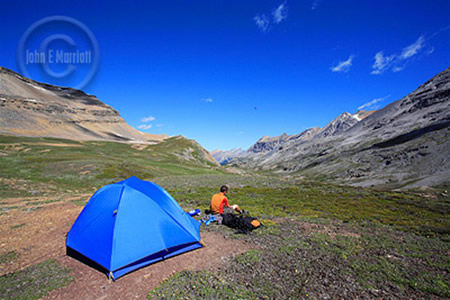 You can opt for luxury resort and boutique hotel accommodations, but camping is a great and inexpensive way to enjoy Banff National Park and Canadian Rockies.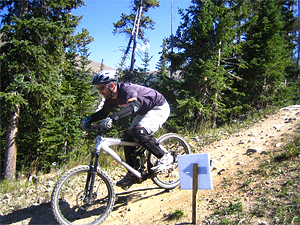 A bicycle is a great way to take in the alpine beauty of Banff National Park and the Canadian Rockies, whether you prefer road cycling or mountain biking.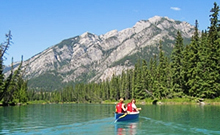 Banff National Park has it all: Placid alpine lakes; lazy, slow rivers; rippling, foamy mountain creeks and epic whitewater: perfect for canoeing and kayaking.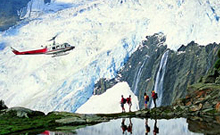 Heli-hiking gets you out into the scenic alpine backcountry of the Canadian Rockies around Banff. Plus you get to see Banff National Park from a helicopter.
Inside Banff National Park there is great rock climbing and mountaineering among the peaks and spires of the Continental Divide and the Canadian Rockies.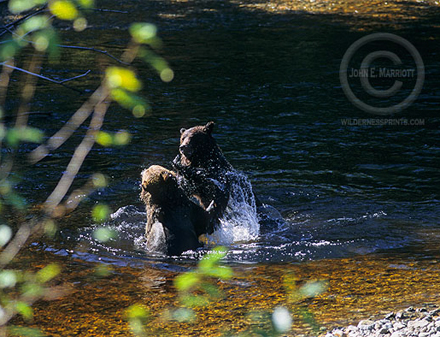 If waterfalls, lakes, mountains, alpine meadows and wildlife are on your list of things to see in Banff National Park then a sightseeing tour is for you.