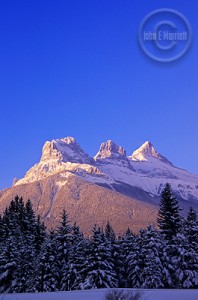 All experienced Canada travel pros know to pack for all weather conditions. The Canadian Rockies is no exception. And while much of the summer months bring sunshine and warmer temperatures, sudden changes are common. Banff and Jasper have their own climate happenings, however Canmore, Alberta is a bit more predictable.
Thankfully Canmore hotels and overall Canmore accommodations are equipped with necessary amenities to keep visitors comfortable. Since Canmore rests within the Bow Valley the town is protected by surrounding mountains. This brings mild climates and more mellow weather conditions that surrounding areas and towns. Canmore lodging in general is ready for winter weather, though summertime standards are easily met. Canmore inn and suites are just as suitable since, within the country, Canmore is known to be one of the towns with the most calm climate settings in Canada.
Summers are, like most of the country, short and sweet. Temperatures remain cool, yet comfortable, and the sun shines bright for long daytime hours. Winters might be intense, but the 330 days the sun shows its face each year more than makes up for the chilly numbers.
The main months when things get wet and rainy around Canmore are between the middle of May though early June. In fact the area is in need of such wet weeks, as Canmore and the Bow valley can become parched and waterless in its arid climate.
The coldest time is around January, where averages hit -8 degree Celsius (18 degrees Farenheit). However, due to its dry climate low temperatures are never too intense compared to areas with humid winters.
Lastly, those ready to explore the Canadian Rockies via cars, hiking, biking and so on should remember that temperatures drop as altitude increases. Weather is quick to change on mountain peaks as well, yet towns like Canmore will always be a warmer destination to retreat.