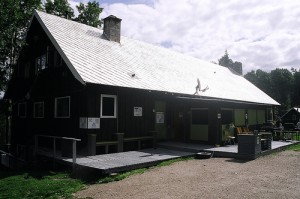 Many visitors to Banff and the Canadian Rockies choose hostelling as their accommodation of choice. Usually centrally located in the city or town, hostelling provides for inexpensive accommodation where you will find yourself in an environment of like-minded individuals. For visitors to Canmore / Kananaskis, Banff provides for two exceptional hostelling choices.
Samesun Banff
Located at 433 Banff Avenue, the Samesun Banff is only 2 short blocks for the centre of Banff with its many choices of bars and restaurants. But the onsite bar and restaurant called The Beaver, has a terrific menu with dinner mains all under $10.00. The Samesun Banff also features free Wi-Fi, daily breakfast and free parking. Choose from shared dorms with en-suites to private double rooms with en-suites. Rates start at $31.50 in a shared dorm.
HI Banff Alpine Centre
Located on Tunnel Mountain, above the townsite of Banff, the Hosteling International (HI) Banff Alpine Centre is quieter as a result, and with Banff's Roam bus system being FREE to HI guests, access to Banff's many attractions and Banff activities is a breeze. The on-site Storm Cellar Pub & Gamehouse and Cougar Pete's Kitchen provide for friendly, inexpensive food and entertainment options. And keep in mind that HI is famous the world over for having friendly, knowledgeable staff that understand the needs of their guests. Overnights start at $31.75 for Hostelling International members.
And why hostel in the Canadian Rockies or anywhere else for that matter? Let's look at just a few reasons:
Budget – nowhere will you find accommodation as inexpensive. And organizations such as HI provide members with access to discounts with attractions, restaurants and tours.
Travel information – hostel staff are a wonderful source of local information, often providing guests that unique piece of "local knowledge" to make a visit unique.
Help in an emergency – from free food to work-to-stay, budget travelers can find themselves in a position to need a helping hand and a local hostel will be there to help.
So whether you are visiting Banff or New York or Denver, hostelling is an accommodation option worthy of much consideration!