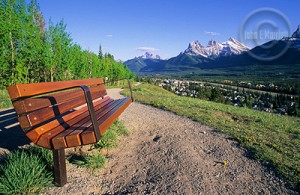 Canada travel vacations in the Canadian Rockies means sporty adventures by day, and equal relaxation by night. Hiking in particular is an outdoor activity that's free and enjoyable by many, and those staying in Canmore, Jasper and Banff will have many trails to choose from. In the evening, rest those feet and sink into a comfortable setting in Banff hotels, Jasper inn and Canmore inn and suites.
Canmore shines in rugged paths leading to scenic views, and there is plenty of Canmore accommodation available throughout the year. Canmore lodging ranges from Canmore rentals, Canmore condos and Canmore bed and breakfasts, now all that's left is knowing where to hike. Here are some recommendations for great and moderate hikes around the Canmore area for those wanting to get a workout and be a part of the outdoor sporting adventure. Regardless of hiking ability, don't forget your hiking shoes!
Cougar Creek — Hikers looking to up the intensity should try Cougar Creek on for size. It begins at the parking lot on Elk Run Blvd. and continues either up the mountain or along the canyon. Both choices will offer fantastic scenery and photo opportunities that are simply priceless. Watch out for the steep areas, and be sure to bring a hiking partner.
Gnassi Lakes — This is a five-kilometer hike with a lot to see and discover. Begin just after the Canmore Nordic Center at the bottom of Smith-Dorrian Spray Trail. Although the beginning is a fire road, a quick turn leads hikers through the luscious and peaceful forest. As the hike through the woods slowly begins to ascend a beautiful waterfall reveals itself. When hikers arrive at the summit they will be greeted by emerald green and turquoise-colored lakes. Additional pictographs can be spotted, and there's a rock scramble to climb for a closer look.
Goat Creek — An 18-kilometer trail that cruises from the top of Whiteman Pass to Banff Springs Hotel. Depending on the knees of the visitor, one way is more forgiving than the other. The trail drops a steep 291 meters (957 feet), though to help ease the big up and big down the trail is mostly wise and smooth. It's an ideal choice for mountain bikers, and the walk back up offers some incredible places to pause and soak up the scenery.