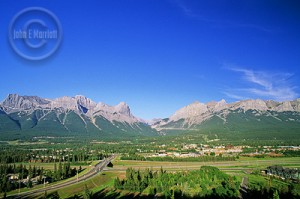 No matter where visitors do a bit of Canada travel in the Canadian Rockies, be it Jasper, Banff, Canmore and Kananaskis, all can expect breathtaking scenes every which way possible. Canmore hotels, Banff hotels and Jasper inns are surrounded by beautiful alpine mountain settings — making these towns a hotbed for vacation.
Canmore in particular shines as an affordable option with just as much surrounding attractiveness. Canmore rentals, Canmore condos, and other Canmore accommodations like Canmore bed and breakfasts host a number of visitors and aim to satisfy all who stop by for an adventure.
There are many lovely scenic drives in and around Canmore, so here are a few of the top picks recommended from CanmoreKananaskis.com. Get behind the wheel and do some sightseeing the North American way — it's a year-round activity enjoyable for the family.

Highway 40 South to Longview
Time: 2 hours
Route: As labeled (closed 12/1 to 6/14)
Condition: Paved
The perfect drive for any summer day, drivers usually begin from the winter gate and cruise through large and wide valleys. Scented alpine trees are beautiful touches as the ride creeps up to Highwood Pass and dips into picture-perfect canyons, waterfalls and prairies.
Highway 40 to Kananaskis Village
Time: 45 minutes
Route: As labeled
Condition: Paved
A beautiful choice that's short and sweet, with many places to rest and indulge in an al fresco afternoon. The world-class golf course at Kananaskis Village is also accessible, including two ski areas, Nakiska and Fortress Mountain. In the summer the snow melts and endless hiking trails appear within the mountains and fields. A truly supreme view that's scenic and serene.

Smith-Dorrien Spray Trail
Time: 1.24 hours
Route: Canmore to Highway 40, close to Lower Kananaskis Lake
Condition: Some gravel, and a bit rough.
More adventurous and rustic than the others, but an enjoyable venture into the back roads. This trail is the rear way to Spray Lakes and Peter Lougheed provincial park, a recreation area popular for fishing and boating in the summer and ice skating in the winter. Take a coffee break at the Mt. Engadine Lodge as cars wind around moose habitat and peer out windows to find these beautiful animals. The trail ends on Highway 40's winter gate area.