Take a Break from Winter Fun in Banff National Park: Take in an NHL Game in Nearby Calgary (and Root for our Flames!)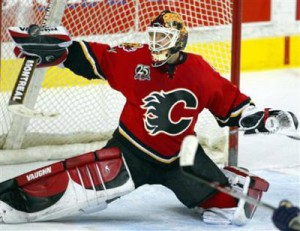 It may be cliché, but we don't care. We're Canadian, and we love our hockey. You may have come to Banff National Park for the alpine beauty or the winter recreation — but if you want a complete Canadian experience, head down the Trans Canada Highway one night to Calgary and catch the Flames on the ice.
See, around Banff, when we're not playing hockey, we like to watch it. When it comes to the National Hockey League, naturally we root for the Calgary Flames. But we of course appreciate all hockey teams, even those from across the border — in fact it's not uncommon to find professional hockey players and teams hanging out in Banff on off days during the season (there's not better place to relax).
If you want to take in a game while you're visiting Banff National Park and the Canadian Rockies, it's relatively easy to do; Calgary is only about an hour and a half away from Banff via the Trans Canadian Highway (Highway 1).
But if you happen to be one of the officials from Game 6 of the 2004 Stanley Cup and you happen to be up here in Banff … let us make a suggestion: you might not want to mention that fact around here. We have long memories. Go Flames!
We suggest you let the folks at Banff Travel arrange your trip down to Calgary; their NHL package includes your Flames ticket, round-trip transportation with drop-off and pick-up at your hotel (in either Banff or Canmore), onboard guide, and a souvenir Calgary Flames hockey puck. Games run through April 9 2011 for the 2010-2011 season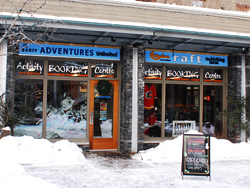 click here for Banff Travel
Call Toll Free (888) 659-3394 or local 403-774-7219.
211 Bear Street
Bison Courtyard