The Rockies are certainly full of their gems, great national parks each offering a terrific vacation. Near Canmore, Alberta, Banff National Park certainly stands out as one of the top vacation destinations.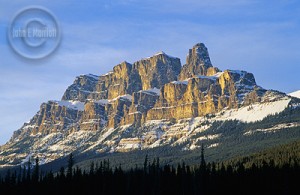 With its dramatic, glacier-carved peaks, bright turquoise lakes, waterfalls, wildlife and your eyes will certainly get plenty of candy. See it for yourself with the Banff Webcam.
Banff National Park is also a great destination for Canadian Rockies vacation activities, including skiing, hiking, mountain biking, backpacking, rafting and so much more. You'll find all of this just 1.5 hrs west of Calgary, Alberta by car.
The towns of Banff and Lake Louise are located in the park's borders, and there you can find great restaurants, hotels and pubs to recharge yourself at the end of the day.
Banff National Park began as a 26 sq km hot springs reserve, and eventually became the breathe-taking 6,641 sq km of protected wilderness. Millions of visitors descend upon Banff´s beautiful forests, pristine lakes and snow-capped peaks each year.
Sightseers cruise along the shores of Lake Louise, view ancient glacial formations, drive below rugged peaks on the Icefields Parkway and stroll through the wildflowers in Sunshine Meadows. There is never a shortage of sights or things to do in Banff National Park.
Banff, besides having great accommodations and food is a fun tourist town that rivals Aspen, Colorado in character. You'll find chill mountain bars with ski bums sipping beer and along with first-class restaurants, not to mention the great shopping in Banff.
First class accommodations will await the adventurous traveler in the town of Banff and the village of Lake Louise. Economy hotels are not plentiful here. If you're looking for really good value in lodging near Banff National Park, you'll want to check out Canmore for sure. Explore Banff National Park and you will share this striking area with some of Canada´s wildest creatures including wolves, caribou and even grizzly bears. Yes, we did say grizzly bears.