So you've been bitten by Canadian Rockies fever. You've visited Canmore, Alberta, and fallen in love with Kananaskis country, Banff National Park, and all the awesome activities surrounding the area, such as mountain biking, rafting, skiing and hiking.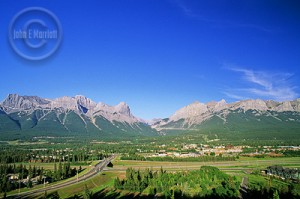 You've decided to make the big leap and move here for good, only one thing's missing: You need to work somewhere. Life's pretty inconvenient that way, isn't it. Fortunately, there are opportunities here. You might want to start by checking for Canmore and Banff ski resort jobs, as well as jobs at Banff National Park.
There are also plenty of hotels, restaurants, tour guiding companies, and many other local businesses that often need some hard workers. As you might guess, a lot of them are related to the tourism and service industry.
One great place to check out is the Canmore Jobs Resource Center. Their entire job, as the name implies, is connecting employees and employers in Canmore, and Banff as well. It's a great place to start on your search, and get up-to-date info on the job market here. Below you'll find contact info for them:
Canmore Office
#109, 710 – 10th Street
Canmore AB T1W 0G7
Phone: (403) 678-6601 Fax: (403) 678-6630
Another good contact is the City of Canmore. They'll also have info on what the current job market in Canmore is like. Also, if you lucky, the city may have work opportunities available. You can reach their human resources department here:
Canmore Civic Centre
902 7th Avenue
Canmore Alberta T1W 3K1
Hours: 8:30am – 4:30 pm Monday-Friday
Phone: 403.678.1500
Fax: 403.678.1524
So those are the basics. From here, we recommend pounding the pavement, working hard, and keeping your eyes peeled for the job that suits you best. Happy hunting!