We're willing to wage that a good percentage of our fellow skiers and snowboarders, not lucky enough to have been born nor raised near the Canadian Rockies, have considered making the big move. It's every riders secret, or not so secret, dream to be close enough to the ski hills that you can decide to go riding in the morning and be on the slopes before noon.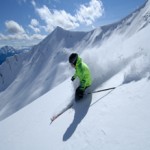 One famous place for this is Canmore, Alberta. Once you've decided to come here, the next question is, how to support the riding habit? We've got the line on Canmore jobs here at CanmoreKananaskis.com.
One of the best answers to that question is getting a job at a ski resort near Canmore. Resorts in the Canmore and Banff area offer world-class skiing , as well as a wide variety of jobs, from food service to marketing, sales, management on down to the rookie lift operator, everyone can find their place to fit in.
Near Canmore, you'll find several good ski resorts, including nearby Nakiska, as well as Banff's Sunshine Ski Resort, Lake Louise Ski Resort and Mt. Norquay. A little further away, you'll find Marmot Basin in Jasper.
Below you'll find the contact info you need to get started on the hunt for your Banff job, and some good times to come.
Nakiska ski resort:
Contact Information
Phone: (403) 591-7777
Fax: (403) 591-7780
Email: hr@skinakiska.com
Mail: Ski Nakiska
PO Box 1988
Kananaskis Village, AB
T0L 2H0
Lake Louise Ski Resort:
Please contact Human Resources for more information at (403) 522 1321, by e-mail at jobs@skilouise.com or visit the resort with your resume.
Sunshine Ski Resort:
To apply for any current positions, at Sunshine Ski Resort, you can,
Complete an on-line application through our website. To do this go to the current vacancies page and apply through our seasonal vacancy position . Please include your cover letter and resume.
Email your cover letter and resume to jobs@skibanff.com.
Fax your cover letter and resume to 403-762-6513 (online or email applications preferred).
Toll Free: 1-877-WORK-SKI (1-877-967-5754) – Canada and USA Only Phone: 403-762-6546 Fax: 403-762-6513 Email: jobs@skibanff.com.
Mt. Norquay:
You can email your resume to: admin@banffnorquay.com, fax them at: 1-403-762-8133 or mail an application to: The Administrative Manager Mt. Norquay P.O. Box 1520 Banff AB T1L 1B4.
Marmot Basin: