Ride a Gondola and Enjoy Mountaintop Views and Wildlife, Without the Sweat!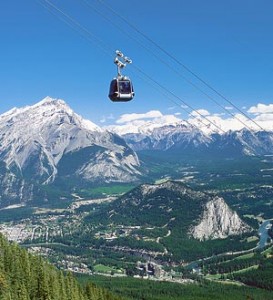 Not everyone is physically capable of climbing or hiking up a mountain. Even when you are up for this feat, you might not have time, or you might have the family with you, and the youngsters might not be up for a long and strenuous, alpine hike.
Not to worry; that doesn't mean you can't get to the top of Canadian Rockies peaks and explore first hand the scenic wonders that can be found there. Gondolas are the perfect option and operate year around — during the warm weather months they ferry sightseers instead of skiers up and down mountain sides. Local gondolas include:
Banff Gondola
Just a few minutes ride from downtown Banff, Alberta – there's a bus that can take you too and from the lower gondola station – the four-person Banff Gondola offers an 8-minuted ride with 360-degree panoramic views around Banff to the summit of Sulphur Mountain, at an elevation of 2,281 meters. 486 ft). At the summit is an observation deck with several outdoor terraces, as well as a restaurant and a gift shop.
There are also trails here – you can hike to the top of Sulphur mountain and take the gondola back down, or you can take the gondola to the top and hike back down, the choice is yours. Either way, don't forget your camera; taking the gondola is a photographers dream.
Lake Louise Sightseeing Gondola
This gondola ride takes you on a 14-minute trip up to an elevation 2,088 meters. You also have a choice of riding in an open or fully-closed car. While you can enjoy the usual panoramic alpine vistas and access to meadows filled with wildflowers, springs, and other aspects of the alpine environment, one aspect of the Lake Louise gondola trips are the wildlife.
Animal sightings occur almost daily, according to gondola operators. These sightings include grizzly bears, black and brown bears, cougars, lynx, mountain goats, wolves, elk, mule and whitetail deer, moose, big horn sheep, wolverines, and many others.
The tour operators keep calendars of major animal sightings, and during the months the gondola is open for warm-weather tours, most days see major animal sightings. In September 2010, for example there were 15 days with major animal sightings; in August there were 29 days with animal sightings! What's more, many of these are grizzly bear sightings. Click here for more information on the Lake Louise sightseeing gondola.
Want to schedule a gondola ride? Check out Banff Travel.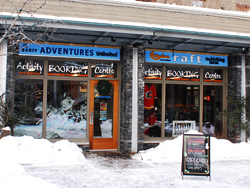 click here for Banff Travel
cCall Toll Free (888) 659-3394 or local 403-774-7219.
211 Bear Street
Bison Courtyard
Banff, Alberta