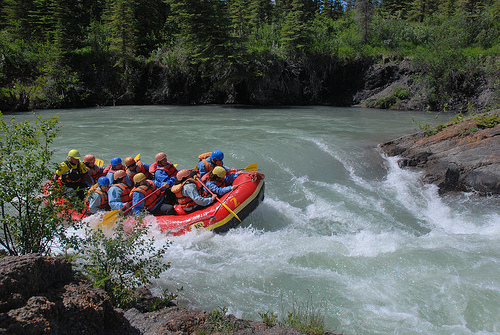 CANMORE, ALBERTA—Want to try whitewater rafting, but are a little nervous? The Kananaskis River in Alberta is the perfect river for reluctant rafters! The Kananaskis River offers an excellent introduction for first-timers, but still has enough thrills to keep experienced rafters engaged. This river also makes a great primer for groups and families. Join us as we navigate Class II and III rapids on the Kananaskis in Alberta!
Located in the front ranges of the Canadian Rockies, the Kananaskis River crosses the length of Kananaskis Country. A whitewater rafting adventure here is easily accessible from Banff, Canmore and Calgary.
Kananaskis River Whitewater Rafting Information
Class & Level: Beginner to intermediate (Class I-III)
Duration: 2 Hours (Morning & Afternoon trips)
Activities: Rafting, Surfing, Whitewater swim
Adult Rate: $72+GST
Youth/Group Rate: $62 per person
Check in Times: 9:45am & 1:15pm
Check in Location: Seebe
More Kananaskis Rafting Information
Finish your tour with a complimentary beverage & snack
Indoor change rooms are available
Don't forget a souvenir! We sell DVDs, blankets, towels, t-shirts & other memorabilia of your trip
Check out some of our other Kananaskis Whitewater Rafting Trips:

More of the Best Things to Do in Alberta
Don't pack up your paddles as soon as you're done rafting the Kananaskis. If you're ready to take on some more serious rapids, head to the Kicking Horse River, or get back on dry land to explore Banff National Park. For more fun-filled Banff activities, including rock climbing, horseback riding, and hiking, check out Banff Travel. Heading to Jasper, Alberta? Don't miss Jasper Vacations. No matter which tour you book, you're sure to have a memorable Canadian Rockies vacation.