You Can Even Go Scuba Diving in the Canadian Rockies:
Banff National Park's Lake Minnewanka is a Popular Dive Spot
We say it a lot, but it's true: you really can do it all in Banff, Banff National Park and the Canadian Rockies and make no mistake. We're not joking here, people. Pick an outdoor sport, name an outdoor recreation – you can do it here in Western Canada in the heart of the Canadian Rockies, and that includes scuba diving.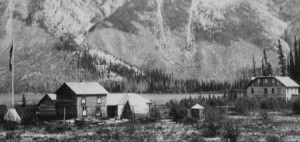 In fact, Lake Minnewanka, just a few kilometers northeast of Banff, Canada is actually an excellent destination for scuba divers, and popular with divers throughout the region. Not only is this deep, natural lake geologically interesting, but there are archaeological and historical sites submerged in the waters of the lake, as well. Power-generation dams built in 1912, 1923 and 1941 increased the size and depth of the lake, flooding several small settlement sites that were built around the shores of the lake.
Divers at Lake Minnewanka can explore the submerged town site of Minnewanka Landing (established in 1888 and pictured above circa 1890) and a dam built in 1895. Features include a hotel, several house foundations, wharves, breakwaters and bridge foundations. These sites were partially flooded in 1912, and completely submerged in 1941.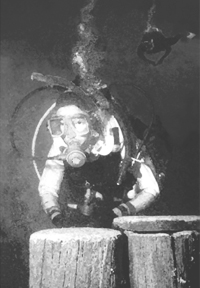 Of course, this is the Rocky Mountains, however; you're not going to be able to dive in your Speedos or bikini — Lake Minnewanka dives are cold water dives. Visibility fluctuates depending on the time of year and the number of divers at the site. Dives vary in depth from 12 meters to more than 25 meters and vary according to the time of year, rising as much as 5.5 meters between spring and fall. The town site dive requires access by boat.
There are no local operators who provide scuba tours, but not to worry if you don't want to mess with bringing your own gear. Several Calgary dive shops offer organized trips to Lake Minnewanka, as well as offering equipment rentals.
If you're really a hardy sort, you can even go ice diving on Lake Minnewanka in the winter.