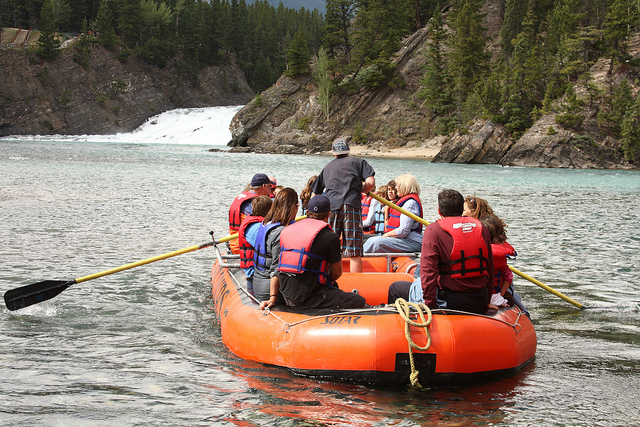 CANMORE, ALBERTA—Looking for an adventure on your Canmore vacation in the Canadian Rockies? Get your heart pumping with a whitewater rafting adventure through Bow River's Horseshoe Canyon!
History of Bow River in Canmore, Alberta
Winding around the foothills of Alberta and extending onto the prairies, the Bow River is a scenic spot. The First Nations peoples used the reeds that grow along the river's banks here to create bows, giving the river its name. The river originates in Bow Glacier and runs south of Lake Louise, through Banff and Canmore.
In recent years, the unique geology of Canmore-Kananaskis has drawn more than just nature lovers. Several Hollywood blockbusters have been filmed here, including Legends of the Fall and Brokeback Mountain.
Adventure Tours in Canmore, Alberta
Want to up the ante on your next Canmore-Kananaskis whitewater rafting trip? Try cliff jumping! With two heights to choose from—there is a 10 foot jump and a 30 foot jump—you can choose the rush you're looking for.
Too nervous to attempt cliff jumping? No worries! You can still experience the best of the Canadian Rockies on a whitewater rafting trip in Canmore on the Bow River with our experienced guides!
Canmore Rafting Tour Information
Intermediate to Advanced (Class I-IV) Duration: 2 Hours (Morning & Afternoon trips)
Adult Rate: $82+GST
Activities: Rafting, Surfing, Cliff Jumping
Youth/Group Rate: $72 per person
Check in Times: 9:45am & 1:15pm
Check in Location: Seebe
Miscellaneous
Minimum age for this tour: 12 years
Minumum weight: 90lbs
Participants should have some swimming ability and be comfortable in the water.
Tour activities may vary depending on water level.

More of the Best Things to Do in Alberta
For more fun-filled Banff activities, including rock climbing, horseback riding, and hiking, check out Banff Travel. Heading to Jasper, Alberta? Don't miss Jasper Vacations. No matter which tour you book, you're sure to have a memorable Canadian Rockies vacation. Call 1-888-659-3394 for more information.