Ice Skating Banff and Banff National Park:
You Have Your Pick of Skating Indoors or Out
Banff, Alberta and Banff National Park gets plenty of ice to go along with the snow we get in the winter months; it gets cold enough to keep the ponds, lakes, streams and rivers here frozen for months at a time – and that means ice skating. There is plenty of ice skating right here in Canmore, no doubt, but if your Canadian Rockies vacation takes you to Banff or nearby Lake Louise, well, don't forget your skates.
Indoor Ice Skating – Banff Ice
The Banff Recreation Centre features an indoor ice skating rink. It's busy with the locals and professionals alike; sometimes NHL teams even come here for off-days between games in Western Canada – doesn't get any better than a day off in Banff, eh?
The Recreation Centre's ice rink is open for ice skating from September to April, and there are a wide range of activities and programs
recreational public skating
casual shinny hockey
organized hockey for all ages and levels
curling leagues
figure skating
To check ice schedules, including public skate hours, call 403.762.1235
Outdoor Ice Skating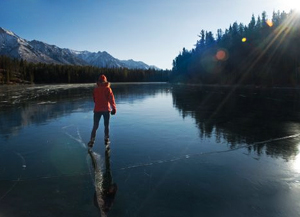 Of course, given the fact that the average temperature is well below freezing in the winter months, you can ice skate the old fashioned way, in the great outdoors. There are a multitude of ponds, rivers and lakes in and around Banff and Banff National Park, as well as artificial outdoor rinks. Skating in the outdoors is a unique experience – there is the panoramic views of the Canadian Rockies' alpine vistas in winter, the silence of winter broken only the gentle booming sounds of the ice shifting.
But that doesn't mean you shouldn't be careful. On rivers, flowing water can mean the thickness of ice varies greatly from day to day. Some of the lakes in this area are fed by springs warmed by geothermal energy – making for thin spots in otherwise solid ice.
Throughout the winter, as conditions permit, there is a track cleared for skating on the Bow River, accessible from Central Park in downtown Banff. Please be aware this not a maintained rink, and that river flow may impact the ice's thickness and relative safety of the ice on a day-to-day basis.
Other outdoor ice skating spots include:
Forty-Mile Creek to Vermilion Lakes
Johnson Lake
Two Jack Lake
Lake Minnewanka
You can get more information from the Parks Canada website about ice skating outdoors in Banff National Park, including places to avoid.
In Banff town there is also a spot behind the Fairmont Banff Springs Hotel, just past the Bow Falls Parking lot on Spray Avenue. There is a covered changing area for putting on skates, a contained bonfire, benches and picnic tables; it's open from December to March, weather permitting.
You can call Banff Community Services at 403.762.1251 to check on other outdoor rinks.
Here in Lake Louise, there is a cleared rink with a bonfire area in front of the Fairmont Chateau Lake Louise from November through April.
Click here to check availability or make reservations for either Fairmont Chateau Lake Louise or Fairmont Banff Springs.