Canmore, Alberta offers some of the best summer outdoor activities you'll find in the Canadian Rockies. Surrounded by Banff National Park and Kananaskis Country, it's a hard to beat location. There's an incredible variety of hikes , walks and bike trails available at your doorstep if you're in Canmore.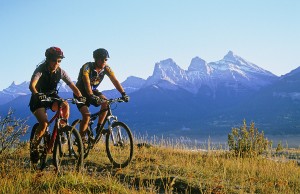 Below you'll find some of our top suggestions for summer activities in Canmore and Kananaskis Country. Get a great view of the area by visiting the Canmore webcam.
1. Golfing: Canmore and Kananaskis Country are great places to get in some rounds of golf in some of the world's most beautiful locations. Beyond the almost unbeatable mountain backdrop Canmore golf courses are top quality and internationally recognized as such.
2. Mountain Biking: Mountain biking is probably one of the most popular Canmore summer activities for vacationers and locals alike. There are a wide range of mountain bike trails to be enjoyed here, and riders of all abilities can enjoy the sport as many in town multi-use trails allow for family style touring around.
3. River Float Trips: The Bow River, which runs right through Canmore, is a great place for an interpretive float trip. It's a calm river, giving you the opportunity to take a relaxing ride as you enjoy incredible scenery and watch for local wildlife. This is a great trip for children as young as three, which makes it a perfect activity for families.
4. Boat Cruise: Want some more fun on the water? Head over to Banff National Park's Lake Minnewanka where you'll find great Boat Tours that take daily cruises on the lake to one of Banff's great landmarks, Devil's Gap. On the boat tour you'll learn about the history and ecology of this part of Banff, while cruising the remarkable scenery (and are an excellent chance to see wildlife).
5. White Water Rafting: You'll find two great rivers to raft in the Canmore area. Raft the Kananaskis River for an easier family vacation adventure, or get an adrenaline blast riding down the Bow River's Horseshoe Canyon.
That's it for now, although there are plenty of other summer activities available. Look for more articles to come!