Canmore, Alberta is a great place to base your Canadian Rockies vacation, whether you've come to ski, hike, backpack raft, fish, golf or tour in your RV.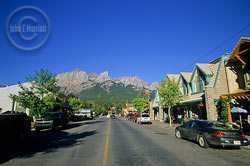 Canmore sits on the borders of both Kananaskis Country and Banff National Park, and near to great Rockies ski resorts and Rockies golf course. It has great, affordable hotels, restaurants and pubs to enjoy when you get back to town, as well as great shopping.
Here are some quick tips and frequently answered questions about Canmore, Alberta. Be sure to check out the free Canmore webcam to get a good look at the town and the surrounding mountains.
How's the weather?
In the summer it reaches the high 80s Fahrenheit or 31 C to 35 C. The average winter temperature ranges from –5 and –12 C or 24 F to 11 F. Temperatures, at their low extremes, have been known to drop to –40s C or –40s F. Although infrequent, it's always good to bring an extra pair of long johns.
Can I bring my dog?
Yes. Canmore loved dogs, as long as they're owners behave. They're several hotels that are pet friendly, and dogs are allowed on leash in Canmore and Kananaskis. You'll also find two great vet clinics in Canmore.
The Metric System
If you're from one of the few countries that still hasn't converted to the Metric System, like the United States, you might be a little thrown off by Celsius, Kilometers (or kilometres) and Meters.
The problem can be solved with everyone's favorite vacation activity: Math! You can convert kilometers to miles per hour by multiplying the amount of KM by .6.
You can get a rough conversion of Celsius by doubling the Celsius number and adding 30. For example, 20 C * 2 = 40 + 30 = 70 F. An exact mathematical conversion would actually give you 68 F.
Public services and such
Is there a hospital in town? Canmore has a very modern hospital in town, as does neighboring Banff.
Where can I find a shopping mall? You won't find any in Canmore, where instead you'll find a selection of unique, locally-owned shops. If you need to see a mall though, you'll find one of the world's largest in Calgary, and there are tours that will take you there and back.
Where can I do my grocery shopping, and purchase other necessary items? You'll find a Sobeys and SaveWay on Railway Ave. You'll also find pharmacies located in town.
Does Canmore have a museum? The Canmore Centennial Museum and Geoscience Centre is located in the Civic Centre on 7th Ave. half a block from Main Street.
What about churches? Canmore is home to a number of churches. We would be happy to answer specific questions with respect to churches by telephone, mail or e-mail.
Is there a synagogue in Canmore? Unfortunately there is not.
Are there any playgrounds? Interconnected by the in town walking trails, you can access 19 playgrounds of various sizes, allowing for perfect breaks from your stroll around town.
Is there a public pool? There is a public pool located at the Canmore Recreation Centre. The centre also houses two ice surfaces, a gymnasium, and an exercise room.
Bear Necessities
If you're planning a vacation here, chances are you know there are bears in the Canmore Kananaskis area. In fact, we have many of North America's large mammals and this is one of the many features that we are best known for. Be sure to check in with Parks Canada and get the latest bear safety info for your vacation.