Canmore, Alberta is a great place to start your Canadian Rockies vacation. You'll find it on the eastern slopes of the Canadian Rockies, 1 hour west of Calgary (1.5 hours west of the Calgary airport). Banff National Park lies just to the west and north of Canmore, with the town of Banff only fifteen minutes away, and to the south lies awesome Kananaskis Country. You couldn't ask for a better location for outdoors activities.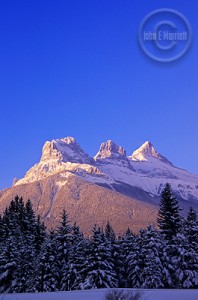 Coal mines established Canmore in 1884, and it was only in 1979 that this industry shut down, signaling the end of an era that led to the beginning of a new one.
Since hosting the cross country ski and biathlon for the 1988 Calgary Winter Olympics, Canmore has experienced astounding growth and rapid changes, yet the community still retains it's strong identity born of its mining days.
Kananaskis Country offers incredible wild land areas that are great for all of the well-known Canadian Rockies outdoor activities, and is well managed under a Provincial Parks and Protected Areas network who help assure its responsible use by people.
In town you'll find the Canmore Visitor Information Centre where getting accurate vacation information is easy. Staff there can also help you book interesting activities and much more.
The Canmore shopping experience is really a unique treat. You'll find a local touch, making for unique items, including tasteful collectibles, a number of outstanding art galleries, an internationally acclaimed quilt store, a chocolatier, a gem factory and much more.
The variety and quality of dining offered is truly amazing and of exceptional quality, so much so that even the most discerning palate can enjoy many days of varied and superb dining.
Most Canmore accommodation is within easy walking distance of stores on Bow Valley Trail as well as in the downtown core. In fact, the community is really well connected by a network of multi-use trails which accommodates walkers, bikers, wheelchairs, and strollers – refer to the Walk, Hike & Bike section of this website.
Another great attraction is the Canmore Centennial Museum and Geoscience Centre located in the Canmore Civic Centre (town hall), opposite the Visitor Information Centre building.
Among Canmore's many outstanding features is the truly awe-inspiring and constant presence of the Canadian Rockies, which dominate views from any location and in any direction from within the town. The three sisters are probably the most famous among them, but many of these bear the names of individuals who in one way or another influenced the history of the town, the Bow Valley or even the Canadian Rockies.