Canmore, Alberta is certainly one of the main attractions when people come to visit the Canadian Rockies. But we know that most people come to see more than just our pretty little town, and we're ok with that. You'll come back. In the mean time, there is plenty to do and see with in a short drive of Canmore. Below you'll find a couple great suggestions.
1. The Highwood Summit: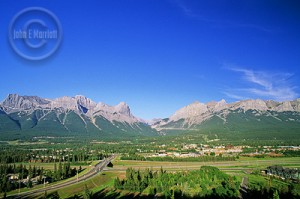 You'll find this great spot about 1.5 hours from Canmore. Take the TransCanada Highway east to Highway 40. Highway 40 begins a rapid elevation gain as you make your way to the Highwood Summit. This is the highest paved pass you'll find in the Canadian Rockies. It's a great place to see wildlife, but keep in mind that this section of Highway 40 is closed from December 1st until June 15th inclusively.
2. Moraine Lake and/or Lake Louise: These lakes, some of the most beautiful and popular in the Canadian Rockies, are about 1.5 hours from Canmore. You can get their by jumping on the TransCanada (Highway 1) for the duration of the trip or alternately via the Bow Valley Parkway (the scenic route). In either case travel time will be between one and one and a half hours. In the winter, Moraine Lake Road is closed to vehicle access and used as a cross country ski trail.
3. Field: Drive about 1.5 hours to this area, whose numerous attractions include the Spiral Tunnels, Takakkaw Falls (one of the highest measured waterfalls in Western Canada) and Emerald Lake.
4. Calgary: Don't miss a chance to check out this beautiful city on the plains of Alberta. It's only 1.25 hours from Canmore. Travel east on Highway 1 from Canmoreand you'll head straight there. Within an hour you'll see such sites as the ski jumping towers on the right at Canada Olympic Park. Once you're in Calgary you should check the Calgary Stampede grounds, Heritage Park, the Glenbow Museum, the Calgary Tower, and of course the Calgary Zoo. In the event that you are visiting in the winter months and you are a hockey fan, or perhaps just interested in seeing your first National Hockey League game, Calgary is the home of the Calgary Flames, and you may well be able to catch them on home ice.
5. Kananaskis Lakes: These amazing lakes are about 1.5 hours from Canmore. Reach it by following the TransCanada Highway east to Highway 40. At Nakiska, continue south on Highway 40 approximately 30 minutes further. You will locate the exit for the Kananaskis Lakes Trail, where an absolutely spectacular trip awaits you. Make sure to bring binoculars and your camera for this one.