The Canmore webcam is now up and running. You can check out the beautiful town of Canmore, Alberta, and the surrounding mountains of Banff National Park, from the comfort of your home, local coffeeshop, brewery, airport, or where ever you find yourself these days with some freetime and a computer.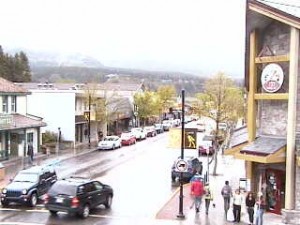 There are several great reasons to use this Canmore resource before you next vacation to the Canadian Rockies. First of all, it's FREE! And I don't just mean kind of free, like you don't have to pay, but you have to surrender all of your personal info, from your email address down to who you went to the senior prom with. I mean, you just go to the site and use it. That's it.
Amazingly, the Canmore webcam is an excellent camera, despite being free. You can actually control it yourself! Just click a button on the screen wait a few seconds, and you can turn 360 degrees, zoom in and out, and look up and down. You can also snap a photo of whatever you're looking at, like the photo attached to this article.
The Canmore webcam is a great way to check out the town before coming here on vacation. If you've got anyone who's unconvinced that this is where they want to spend their next vacation, a few minutes on the cam should do the trick. It's hard to resist once you've got a good view of this quaint town.
The webcam is also a quick way to check up on the local conditions, and see what the weather is like, how much snow is on the ground, or tell how warm it is by what people are wearing. If it's sunny, and beautiful, but everyone's wearing parkas, you know it's cold here!
An0ther fun use of the camera would be saying "hello" to your family and friends at home. Walk down town, stand in front of the camera (the Canmore Hotel is a good spot) get on your cell phone and show people where they can find you! Have fun with the cam, and click here to visit it if you haven't already.