Canmore, Alberta is one of the top places to base a Canadian Rockies summer vacation. Here you've got beautiful Kananaskis Country just to your south, and are sitting on the border of the famous Banff National Park. You're not too far from Jasper National Park either.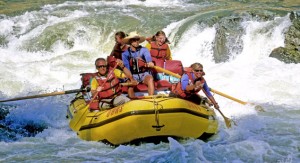 You'll find a wide range of summer vacation activities in the Canmore area, a few of which we've listed below. Also, to get a peak at Canmore, check out the Canmore webcam.
1. Kayaking: Yep, there's lots to do on the water in and around Canmore. Get a relaxing experience with a mellow river paddling ride on the waters of the Bow River, with instruction and guidance throughout the trip. Also a great way to see osprey, bald eagles and other Canadian Rockies wildlife.
2. Fishing: Canmore Kananaskis is trout country. The waters of the Upper Bow River are home to naturally reproducing wild brown trout, while the many lakes of the region offer opportunities to pursue rainbow, cutthroat, brook trout, lake trout and there are even golden trout in a few locations. Book a guide and have some fun.
3. Rock Climbing: The history of the Canadian Rockies and Canmore is steeped in a long climbing tradition. Today the mountain culture continues to thrive in Canmore. A host well-known climbers call Canmore home today. There are a minimum of eight crags await discovery within half an hour's drive. They offer a wide range of climbing options, from bouldering to day-long multi-pitch climbs. There is more than enough here to challenge any level of climber. Most of the climbing around Canmore is in the canyons formed by the runoff from the mountains in the area. As such, many of the cliffs receive only a limited amount of sun, which is good on hot summer days, but can be cold in the early and late season.
4. Events and Entertainment: Canmore is has got a pretty full events calendar and the summer season is usually the peak period for the event line up. Check in with the Canmore Tourism office at (403) 678-1295 to get more on summer events here.
5. In Town: Last but not least. As much as the great outdoors call you, you'll be happy to come back to Canmore and recharge your batteries. Strolling around Canmore in summer is a pretty relaxed affair. The towering peaks of the Canadian Rockies literally surround you on all sides, and it is likely their proximity and presence that so much influences the mood and spirit of all who live here as well those who visit this place. It's a great place to sip a beer or take in a gourmet meal while sitting on a deck and gazing at the beautiful Canadian Rockies.
That's what we've got for now! Stay tuned for more Canmore info.