I've met many a visitor to the Canadian Rockies and Canmore, Alberta that find themselves perplexed when trying to figure out just what to do with their vacation time here. Hike or go rafting? Mountain bike or horseback riding? Snowshoes or dog sled tour?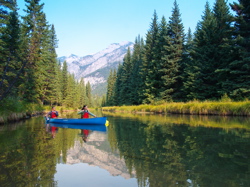 There's a lot to do here, but if you're looking to relax and do some great sight seeing outdoors, I highly recommend a canoe tour in the Canmore, Alberta area. We've got some of the Rockies most pristine, beautiful rivers here, and some unbeatable scenery.
Before taking your trip, you can check out the towns of Canmore and Banff, as well as local weather, with our Banff webcam and Canmore webcam. Below, you'll find a quick guide to a great Canadian Rockies canoe trip.
Bow Falls to Canmore
This section of river starts below Bow Falls and takes you into the shadow of Mount Rundle and on to Canmore. Start at either the east end of the Golf Course Road, or from the Bow Falls parking lot. Do not block any roads when parking.
From the end of the Golf Course:
Just after launching, the river forks. The river right channel is the safest. River left leads to a dangerous strainer logjam completely blocks the entrance to a small channel. From here on, the river is generally wide, as it flows along Mount Rundle's base. As you approach the confluence of Cascade River, the river widens and braided channels and gravel bars appear. Care must be taken, as numerous channels are available, with the possibility of sweepers and logjams in all of them.
After the park boundary (you'll see a small sign on the river right bank) the river becomes narrower again, with tight corners and numerous sweepers and strainers. This area demands precise control and maneuvering and canoeists are advised to proceed with extra caution.
From Bow Falls:
The main channel here is generally to the right, although smaller channels on river left can be run by canoes when water levels are high. But the side channels are smaller, with tight turns and are likelier to be blocked by dangerous sweepers and logjams. Approaching the end of the golf course and can see the Hoodoos glacial till pinnacles just ahead. Here the river makes several tight bends and corners. All channels here have sweepers and strainers, so canoeists should exercise extreme caution.
Taking out:
On river left at the park boundary, a trail leads for 200 metres to the highway at the park gates. In Canmore, take out on river right, just downstream of the first pedestrian bridge.
Distance:
23 km (about 4 hours)
Level: intermediate