Canmore, Alberta offers great Canadian Rockies vacation activities to all visitors. Here you'll find some of the best mountain biking, hiking, backpacking, sightseeing, golfing, skiing… well, you name it, you'll find it in the Canmore area. What can we say? Being on the borders of Kananaskis Country and Banff National Park gives us unbelievable access to some of the best outdoors activities there are.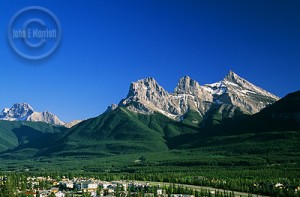 So where to start? Below you'll find a quick rundown of some of Canmore's best summer vacation activities. If you want to get a quick peak at the town, be sure to check out the Canmore webcam.
Summer in the city (or town, anyway)
Going for a walk in the town of Canmore can be as awesome as a hike in plenty of other places. You've got the amazing Three Sisters, some of the Canadian Rockies most beautiful peaks, as a back drop, and a generally mellow feeling around town.
Throughout Canmore and in Kananaskis Village you'll find plenty of friendly, sunny decks to eat and sip a drink on. This is a great way to unwind, take in the views and enjoy the friendly people in the Canadian Rockies.
The food at the restaurants and pubs where you'll find the decks happens to be terrific, and the shops around town are great places to find anything from a great gift for a friend to some gear for your next day of hiking, skiing or rafting.
Mountain Biking
Canmore, Alberta is a great place for mountain biking in the Canadian Rockies, with lots of great courses and trails in and around town and out in the woods. Here's a couple Canmore mountain bike trails.
White Water Rafting
In the Canmore Kananaskis area you'll find two often rivers that offering rafting that anyone will enjoy. If this is your first time, or you're taking a young family, the Kananaskis River is for you. If you want something with a little more adrenaline and action, hit the Bow River's Horseshoe Canyon. The Bow River is also great for kayaking.
Golf in Canmore, Alberta
Among the many awesome activities you'll find here in the summer, golfing in Canmore is one of the most famous. You'll find great courses such as SliverTip, Mt. Kidd and Stewart Creek.
Rock Climbing
For the real adventure seekers out there who need just a little more adrenaline than the rest of us, you'll want to check out the climbing opportunities in the Canmore area. Canmore is legendary among climbers, with eight great crags just a half hour away from the town, lots of bouldering, day long, multi-pitch climbs and lots of other climbs to keep all levels of climbers interested and challenged.
Fishing
You'll find some of Alberta's great trout fishing waters in the Canmore Kananaskis area. The Upper Bow River is home to plento of wild brown trout, local lakes offer the chance to fish for brook trout, rainbow, cutthroat, lake trout and there are even golden trout in a few locations.
.