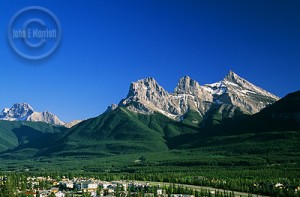 Canada travel vacations in the Canadian Rockies means sporty adventures by day, and equal relaxation by night. Hiking in particular is an outdoor activity that's free and enjoyable by many, and those staying in Canmore, Jasper and Banff will have many trails to choose from. In the evening, rest those feet and sink into a comfortable setting in Banff hotels, Jasper inn and Canmore inn and suites.
Canmore shines in rugged paths leading to scenic views, and there is plenty of Canmore accommodation available throughout the year. Canmore lodging ranges from Canmore rentals, Canmore condos and Canmore bed and breakfasts, now all that's left is knowing where to hike. Here are some recommendations for great and easy hikes around the Canmore area for those wanting a simple stroll or walk. Regardless of hiking ability, don't forget your hiking shoes!

Grotto Canyon — Hikers who love waterfalls and riverbeds will enjoy the hike along Grotto Canyon. The hike starts with a trickling runoff and builds in intensity until a waterfall is presented at the trail's end. There are also pictographs left by natives, though it is requested to look and not touch. Many of these images have been worn away by from fingerprints and climbers. In addition to the peaceful sounds, running water rushes over beautiful limestone that's smooth and shiny.

No. 1 Minesite — This is an easy going and brief walk through the area's historic No. 1 mining site. It's fun, quick, and exciting for those looking to go back in time. A further walk will bring hikers to waterfalls and cold sulphur springs Canmore is known for.
Policeman's Creek — This walk is more like a stroll through town. Pass historic buildings and duck ponds, maybe pop into a cafe for a drink. It's a relaxing walk combining the town charm with surrounding nature.
Riverside Loop — Another mosey through Canmore beside the Bow River, this loop is a scenic waltz in and around town. Park downtown or on River Road and enjoy the sights, sounds and smells of Canmore's nature and beauty.