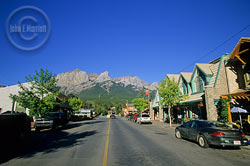 Aside from the rustic Canmore lodgning, Canmore hotels, Canmore golf courses and being a prime spot for Canada travel, mountain towns in the Canadian Rockies can't survive without a cozy coffeeshop where locals and visitors can mingle. The java treasure resting in Canmore, Alberta, is none other than Communitea and definitely worth checking out when travelig outside Banff and Jasper area.
Since 2007, Communitea excels in being more than just a coffeeshop and like a living room where the Canmore community can gather and spend time in a warm atmosphere. The place has it all, from live music nights to yummy and healthy lunch bowls and a long list of fresh herbal teas.
The place itself is bright, big and inviting, and the open area hosts live music sessions with genres ranging from folk to indie rock and singer/songwriter pop (ticket prices range from $10 to $20).
Though special happenings like concerts, cupcake Fridays and movie nights aren't the only times people come together at Communitea; the cafe is a bustling place during the daytime as well. Morning risers pop in for a quick organic oatmeal and java, and late awakers mosey in to spend time working on laptops and chatting over breakfast paninis like peanut butter, honey and banana or the scrambled eggs, cheddar, spinach and hummus panini.
Communitea's lunch menu is just as healthy and delicious, with light wraps, salad bowls with quinoa, shredded beets and cranberries. Panini sandwiches are also on the menu, but it's the pad thai and steamed veggie and rice bowls that really win over hungy tummies from locals and visitors.
There are about 100 different types of herbal teas available with sweet aromas and a variety of delicate choices. Mates, white teas, fruity infusions, green and black teas are just a few of the types available for seeping on a cold winter Canmore afternoon. Communitea is a perfect place to get cozy with friends and family, and not to mention a prime place to spoil your tastebuds.