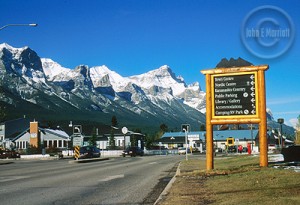 Those big on Canada travel must plan to make a stop to Canmore for a getaway packed with mountain adventure and cozy Canmore accommodation. The area hosts a number of outdoor activities to keep visitors outdoors throughout the year. Warm summers offer Canmore golf, hiking and mountain climbing, while winters bring in athletes ready to ski Canada. Canmore hotels, Canmore inn and suites and Canmore lodging defines comfort and coziness in a small mountain town. Add its historic charm and artistic flavor and Canmore might be a difficult mountain paradise to leave.
Amidst the beautiful nature and endless outdoor activities in Banff and Jasper, Canmore, Alberta also has quite a history on display in the many museums across town. Begin at the Centennial Museum, north of Main Street on 7th Avenue, and see displays of work going back since the area was first discovered in 1884. Canmore's progression and dynamic growth can be seen in photos, papers and other artifacts of interest. History buffs will appreciate the museum, but those interested to get a full understanding of the culture will also enjoy the spot.
Canmore itself strives to keep many buildings preserved in its original look and condition. Around 40 other historic businesses and homes can be spotted around town, including the still-standing 1890 Canmore Hotel.
The northwest Mounted Police Barracks was designed in 1893 as the town's first police station, and is located two blocks north of Canmore Hotel. Although much restoration has been implemented on the building, the overall outcome remains an antique addition to the town's already cozy and rustic feel.
Swing by the Ralph Connor Memorial United Church built in 1891 by the man mentioned in the title. Although he went by Reverend Charles Gordon, his fame as a writer would always encircle the name this church goes by.
Historians and those eager to learn more about the history of Canmore and surrounding areas should check out the Canmore Public Library. Located just a half block north of Main Street on 8th Avenue, the library also features a number of exhibits by local artists in the Artisans Gallery wing.
Take to the indoors if the weather is disrupting and go back in time at the museums, although a casual stroll throughout the town will also deliver a 19th century setting that's exciting and unique.