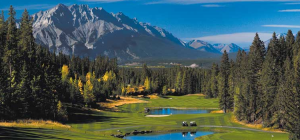 Golfing in the Canadian Rockies is a popular sport to practice when summer months roll in and temperatures are enjoyable and pleasing. Canmore in particular is known for mild temperatures and over 300 days of sunlight — perfect conditions for golfing. While Banff and Jasper offer other attractions in the vicinity, no trip is complete without Canmore golf and visiting the unique and beautiful Stewart Creek Golf Club and Course.
Stewart Creek apartments and nearby Canmore hotels, Canmore lodging and other Canmore rentals are available for enthusiasts wanting to be nearby the green and nearby a breathtaking area. Canmore bed and breakfasts serve as a perfect way to wake before heading to tee off.
When native Canmore local Gary Browning set off to design Stewart Creek Golf Course he aimed for a challenge complementing the scenic Canadian Rocky surroundings, and it worked. The par-72 layout was regarded in Reader's Digest as the best new course in western Canada in 2002, with a 4.5 star rating in '02, '03 and '04. Canada travel in summer is not complete without a bit of golfing, and Stewart Creek golfing is a spectacular treat.
Its 7,195 yards of greenery and shapely terrain is a carefully-planned area aiming to enhance plays and setting. The 360-degrees views of mountains and alpine vistas are absolutely gorgeous, including the historic mine shafts and variety of wildlife. Note: The all-encompassing beauty could possibly distract a golfer's focus!
Brown's philosophy on pairing golfing with a breathtaking setting has created one of the most beautiful courses to be seen, and he continues to work within this theme. The world-class Stewart Creek Golf course has itself become a popular attraction for tournaments, weddings, and even Canmore vacationers.