Canmore, Alberta is a beautiful, awesome, terrific place to spend your vacation. But now we're telling you to get out. Ok, not really, but we know that you didn't come all the way out to the Canadian Rockies just to see our handsome little town (though we'd be flattered if you did). You came to see the Canadian Rockies. Below you'll find 5 great places to see within 45 minutes of Canmore, Alberta
1. Banff Townsite in Banff National Park: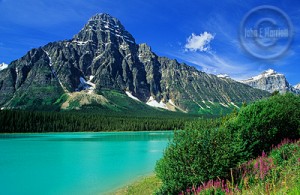 Just 15 minutes down the TransCanada (Highway 1) west from Canmore and you'll be in the historic mountain community of Banff. Here you can check out historic sites such as the Cave and Basin, and learn about Canadian history at Canada Place.
2. Banff Upper Hot Springs: Just 25 minutes outside the downtown core of the Banff townsite in Banff National Park, you'll find a great place to relax and get some of the ache out of your muscles after long days of Canadian Rockies activities. better way to relax after a long day of activity in the mountains? Your muscles will thank you as you rejuvenate them for the next day's activities.
3. Lake Minnewanka: About 35-45 minutes west of Canmore on the TransCanada (Highway 1) and down the exits for Banff town site and then Lake Minnewanka you'll find this mountain vacation paradise. Follow signage to Lake Minnewanka. Excellent opportunities for viewing big horn sheep and other wildlife abound and the 19 mile long reservoir is surrounded by spectacular scenery. Interpretive boat cruises, by Minnewanka Lake Cruise, are a highlight of the location.
4. Banff Gondola: 25 minutes or so away from Canmore, just outside of Banff townsite in Banff National Park, you can catch a ride on the gondola up Sulphur Mountain and catch breathtaking views of Banff and the Bow Valley unfold before you.
5. Johnston's Canyon, Banff National Park: About 45 minutes from Canmore, you'll find this terrific natural wonder of Banff National Park. It's one of the most To get here, ravel west on Highway 1 from Canmore to the exit for the Bow Valley Parkway (Highway 1A, the scenic route) Follow this road to the Johnston's Canyon parking lot. A spectacular light hike is possible at this location. Turn around at Johnston's Canyon for a return trip along the 1A or alternately follow signs to Castle Junction and return via Highway 1.