Canmore, Alberta is certainly one of the top spots in the Canadian Rockies for winter vacation activities. You've got top notch ski resorts within short driving distance, nordic skiing with great paths and exhilarating views, dog sledding, snowshoeing and lots of other winter activities.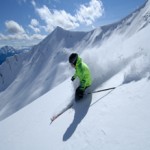 Canmore is located on the edges of both Kananaskis Country and Banff National Park, where you'll find an amazing landscape that offers numerous adventures for your vacation.
Here are five of the many activities you can enjoy in this winter wonderland.
1. Dog Sledding: With three world-class outfitters offering daily trips of varying lengths in what is known to be one of the most terrific natural settings in the Canadian Rockies, dog sledding is an very popular vacation activity. Trips vary in length, and certainly go well beyond the very soft adventure that they can also be.
2. Skiing and Snowboarding: When it comes to skiing and snowboarding in the Canadian Rockies, Canmore is well known for four great ski areas that run from world class slopes to great locals skiing areas.
Lake Louise – Just an hour after leaving Canmore, you can be at the top of Lake Louise ski resort, looking down into the Bow Valley and preparing for an epic day of skiing or snowboarding.
Nakiska – A 40-minute drive from Canmore into Kananaskis Country, Nakiska offers runs for various ability levels, with family cruisers, fun glades, and steep corduroy groomers to race down (evoking the 1988 Olympics, perhaps – Nakiska hosted the downhill events).
Sunshine Village – Only 20 minutes from Canmore, the Sunshine high-speed gondola zips skiers up to the village at 7,000 feet. From here, numerous high-speed quads spread out all over this fabulous ski area – most of the rides and runs will keep you above treeline so you'll get great views on top of great riding.
Mt. Norquay – Only 15 minutes from Canmore, the Mt. Norquay is well known as a place for locals to run out and get some runs on a whim. You can enjoy it too on your vacation. Norquay's got plenty to offer skiers and snowboarders all day long, and the only night skiing in the area every Friday.
3. Ice Walking: Take a walk over a sheet of natural ice covering the floor of a stunning canyon from wall to wall. Don't worry about slipping, you'll be wearing ice cleats to keep you balanced on the ice as you explore Grotto Canyon, Pictographs and Ice Falls is a brief sojourn of only about 1.5 to 2 hours total time, but likely one you will remember forever. This trip is especially awarding when done with an interpretive guide.
3. Ice Climb: Ok, so this isn't the easiest winter activity in the world, but Canmore is a great place for beginners to get take a shot at this adrenaline raising experience. Do a beginners ice climbing course and experience the sense of terrific accomplishment you will enjoy. Professional guide instructors assure your safety. Amazing locations, and an experience well beyond the ordinary await you.
4. Snowshoe Walks: Here's a great winter experience anyone can enjoy. You don't need to learn any new skills, and you don't need to spend any time learning. In just a short time after leaving Canmore, you can be out enjoying the winter peace and quiet, truly enjoying nature's beauty. Guided snowshoe tours can help you discover Canmore's winter wildlife perhaps follow the tracks of the wolf, coyote or lynx.
5. Cross Country Skiing: One of the most well-known activities in Canmore and Kananaskis Country is Cross Country Skiing. Canmore served as host community for cross country and biathlon competitions during the 1988 Calgary Winter Olympics. The Nordic Centre in Canmore continues hosting competitive ski events and provides an incredible facility for beginners and other recreational skiers to enjoy world class facilities, track set trails and snowmaking. A number of wilderness areas around Canmore offer track set systems.