Canmore, Alberta and surrounding Kananaskis Country are known for the awesome array of outdoor activities they offer. It's a veritable outdoor lover's paradise, offering access to some of the best there is in the Canadian Rockies. Below you'll find a few suggested year round activities to help you decide what to experience in Canmore.
Caving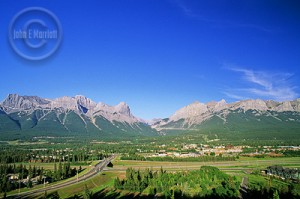 Here's a cool experience, something you'll definitely be telling stories about when you get home. The Rat's Nest Cave, about 10 minutes east of Canmore. This may sound like more of a summer thing, but the temperature stays around 5 degrees Celsius throughout the entire year. For safety reasons only guided trips are allowed to enter the cave. There are both half and full day tours given. Although no previous experience is required, participants should be in good physical condition.
Horseback Riding & Pack Trips
Riding in the Canmore Kananaskis area during the winter is a stunning experience. The selection of terrain is phenomenal and the summer ride durations vary from a selection of short trips and day rides to multi-day pack trips. Horseback riding is a great year round activity, but winter riding opportunities can be limited by temperatures and ground conditions. Trips are not available below –10C/+10F.
Guided Interpretive Walks or Hikes
You can pretty much take a guided walk or hike year round, although places you go may be different from season to season, depending on what weather and ground conditions allow. In the winter, there's a good chance you'll be slapping on snowshoes or ice cleats as part of your guided interpretive walk or hike.
Wine and Dine
The food in Canmore is always good. An incredible assortment of eclectic dining experiences awaits you here. Here you'll find the perfect mountain town atmosphere in many of our restaurants to savor absolutely superb wines paired with gourmet meals.
Get Pampered
There's plenty of day spas here, and they're just as awesome after a day of skiing as a day of backpacking. Canmore also has a significant assortment of health and wellness facilities. When placed in context with the absolute power of the location, Canmore is a natural location for healing – whether it be your mind, body or soul or perhaps all of the above.
Hiking
Having Banff National Park and Kananaskis Country as neighbors means Canmore is surrounded by some of the greatest hiking in the world, no matter what time of year you visith. There's plenty of variety to accommodate all levels ranging from casual walks on in town trails, to significant backcountry excursions. In addition, there are incredible cross country skiing and snow shoeing in wilderness settings.
Sightseeing/Photography/Wildlife Viewing
You can get in some great sightseeing, wildlife viewing and photography anytime of year in and around Canmore. Wildlife watching in winter is different than the spring, summer or fall. There are some animals visible outside of winter, most notably bears, that are hibernating until spring. Wait, don't get discouraged! The chances of seeing lynx, cougar, bobcat and wolf are significantly better in winter than in the summer months. Guided tours are usually one of the best ways to ensure that you'll get a glimpse of the local fauna.
Heli-sightseeing, skiing and hiking
A great year-round activity. Take a heli-tour and be truly amazed as the full majesty of Alberta's Canadian Rocky Mountains is laid out below you. You can go sightseeing year-round, heli-hiking in the summer, and heli-skiing in the winter.