Take an Exhilarating Day Hike Outside Banff
to Natural, Glacier-made Cascade Amphitheatre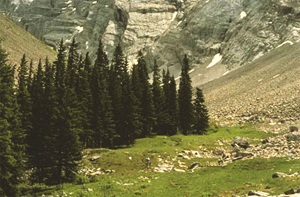 A somewhat long and strenuous day hike, the hike up to Cascade Amphitheatre is nevertheless easily doable in a day. And it's worth the effort, as you will get to see some of the natural beauty and geologic features of the Canadadian Rockies, where over time glaciers have left their marks.
The trail starts at the Mt. Norquay ski lodge at the far end of the parking lot; the first kilometer you walk along a service road, skirting the base stations of ski lifts. At 0.8 kilometers, the trail turns to the right, away from the Fort Mile Creek Trail, which continues on straight.
The Cascade Amphitheatre trail turns away from the ski lifts and drops down into a forest. At 2.9 kilometers the trail encounters Forty Mile Creek. No need to ford it though; just beyond this point the trail crosses the creek on a bridge.
But before that climbing begins, the trail rewards you with some nice views, including that of Mouth Louis to the west. This sheer wall of rock is popular with rock climbers and mountaineers, and just beyond Louis to the south is Mount Edith, another popular spot for climbers.
The last fork in the trail is 1.2 kilometers past the bridge over Forty Mile Creek; here the Amphitheatre trail branches uphill; the Elk Summit trail continues on the other fork. The trail also begins to get challenging here, as a series of switchbacks takes you through alpine forests for 2.3 kilometers until you reach the edge of Cascade Amphitheatre.
From the Amphitheatre's natural entrance, the trail moves on for a little more than a kilometer to the mountain's summit ridge, which also creates a headwall to the Amphitheatre. The Cascade Amphitheatre, carved out by glaciers, encompasses alpine meadows carpeted with wild flowers in mid summer. You'll also find marmots and pikas here as well.
While the ascent of Cascade Mountain from the Amphitheatre is not particularly difficult, the route is tricky and can be dangerous at certain times of the year; it's easy to miss your way and wander near deadly cliffs. If you are set on peak bagging and must get to the summit, then pick-up a copy of A Climber's Guide to Cascade Mountain at the Banff National Park Visitor Centre in Banff, Alberta.
To get to the trailhead, follow the Mount Norquay Road north from the Trans-Canada Highway (at the Banff West Exit) 6 kilometers to the Mount Norquay Ski Area.
click here for

Yamnuska Mountain Adventures

200 – 50 Lincoln Park
Canmore, Alberta

---

---

click here for





Banff, Alberta

---

---