Let Someone Else Haul the Gear and Do the Cooking!
Take a Canadian Rockies Hiking or Walking Tour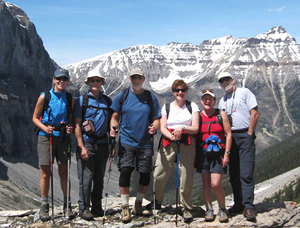 The Canadian Rockies' Alberta province is a confluence of unspoiled wilderness, alpine culture and history, both natural and human. Consequently the opportunities for hiking and walking here in the Canadian RockiesWestern Canada provide some of the most beautiful and stunning natural scenery in the world.
What's more, you can stay comfortable boutique hotels and lodges in the famous alpine resorts in the Albertan towns of Banff, Canmore, Lake Louise and right here in Jasper, or you can opt for a more primitive adventure, camping nearby and traveling to different trails each day. There are also rustic log cabins at Mount Assiniboine, where the wilderness starts at the doorway.

Of course if you're the do-it-yourself type, there are plenty of trails for you here in the Canadian Rockies. But if you would prefer a guided hiking or walking tour, there are many professional guiding companies to be found here that can arrange a trip for you and your group.
The benefit of the hiking and walking tours is that you can leave behind the large backpacks and enjoy the splendor of Alberta's Rocky Mountains, carrying little on your back, and you have a professional guide that not only will keep you from getting lost, but can educate you on the culture, history and biology of Western Canada and its national Parks.
It's also possible to arrange for a private hiking or walking tour.
click here for





Yamnuska Mountain Adventures

200 – 50 Lincoln Park
Canmore, Alberta

---

---

click here for

Banff Travel

Call Toll Free (888) 659-3394 or local 403-774-7219
211 Bear Street
Bison Courtyard
Banff, Alberta

---

---