Go Backpacking in the Canadian Rockies and View the Natural Alpine Beauty of Alberta and Western Canada Firsthand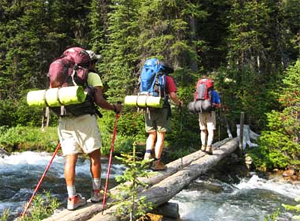 Backpacking, trekking, bushwalking — it has different names in different parts of the world. No matter; wherever you're from and whatever you call it, it's one of the best way to get out into nature and enjoy the beautiful wilderness of Banff, Alberta and the surrounding Canadian Rockies. What better way than strapping a pack on your back with gear and food and hitting the trail?
It's a the perfect way to enjoy the outdoors in Western Canada. After a few days, even if you're not in the best of physical shape, your muscles will firm up and you'll enjoy the easy pace of a hike. At that point it's easy to become absorbed in the beauty around you, especially here in the Canadian Rockies: alpine meadows carpeted in wildflowers, soaring peaks adorned with majestic waterfalls, and skies that seem to go on forever.

Of course there are innumerable trails criss-crossing Alberta and Western Canada, of all difficulty levels and lengths. You could go for an easy out-and-back over the weekend, or spend weeks in the backcountry of the Canadian Rockies, perhaps traversing the peaks of the Continental Divide.
Looking for a short backpacking opportunity right outside Banff town? Check out the Aylmer Pass trail at Lake Minnewanka for a spectacular backpacking trip just outside of town. Want something a little longer? Here's several options for trips of three or four days.
Assiniboine Loop
This trip starts and finishes at the Mt. Shark trailhead in Kananaskis Country, Alberta, just ouside of Banff National Park. Travel through three connected wilderness areas for awesome views Mt. Assiniboine, the sixth highest mountain in the Canadian Rockies, and one of the most impressive in the Banff area. There are some seasonal restrictions here, so check in with a ranger before going out.
Campsites: McBride's Camp – Night 1; Lake Magog Campground or the BC Parks trail shelter, Mt. Assiniboine Provincial Park – Nights 2 and 3 (separate BC Parks campground fees will be collected on-site); Marvel Lake, or stay at the Bryant Creek trail shelter – Night 4.
Elevation gain: 545 m
Distance: 55 km
Bryant Creek
This trip takes you to the amazing Mt. Assiniboine with a great starting point at the Sunshine Village ski area that traverses the flowery (or muddy, depending the season) meadows of Citadel Pass. Hike the Sunshine Village ski area maintenance road or catch a ride on White Mountain Adventures private shuttle to the base village. The trip ends at the Mt. Shark trailhead in Kananaskis Country, Alberta. Check with a ranger for info on seasonal restrictions.
Campsites: Porcupine Campground, Mt. Assiniboine Provincial Park – Night 1; Lake Magog Campground, Mt. Assiniboine Provincial Park – Night 2 or 3 (where separate BC Parks campground fees will be collected on-site); McBride's Camp – Night 3 or 4.
Elevation gain: 660 m
Distance: 55.7 km
Banff and Mount Assiniboine
Get into Banff's backcountry with this series of trails connecting Sunshine Village ski area to the Vista Lake viewpoint on Highway 93 on foot or via a shuttle ride by White Mountain Adventures. On the way, explore the Egypt Lake area en route. After climbing over Gibbon Pass, the trail meanders past a series of scenic lakes before the final descent to the highway.
Campsites: Egypt Lake – Night 1; Ball Pass Junction – Night 2 and 3; Twin Lakes – Night 3 or 4.
Elevation gain: 1390 m
Distance: 40 km
If you want to join a guided backpacking group trip, there are a number of tour and guide companies that offer backpacking trips, often times packaged with pre-and post-trip options for accommodations and transportation. This is a great option of you're not an experienced backpacker, or if you're not familiar with Alberta or don't have a lot of time to spare.
We can recommend Yamnuska Mountain Adventures for your guided backpacking excursion. Their licensed, experienced, professional guides can take you on short or long trips of varying difficulty throughout the year. Yamnuska can also arrange private, guided backpacking tours.
Interested in winter trekking or backpacking on skis? Ski mountaineering or hut-to-hut traverses in the backcountry? Yamnuska can help you with that too.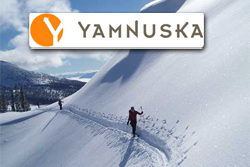 click here for
Yamnuska Mountain Adventures
200 – 50 Lincoln Park
Canmore, Alberta, Canada
For further information on guided tours in the Canadian Rockies, fill out the blue form on the right side of this page.