On This Banff National Park Day Hike You'll Find Beautiful Waterfalls, Rugged and Scenic Johnston Canyon and … Cold Springs?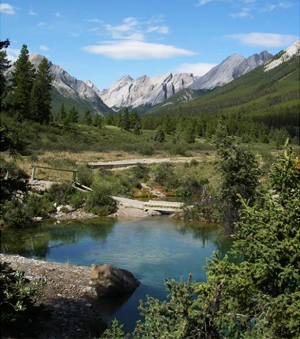 This is one of the most popular day hikes around Banff, Alberta and perhaps all of Banff National Park. It is one of the most scenic in the area, taking people to view the waterfalls of Johnston Canyon. In fact, if you want to avoid other hikers, you'll have to hike in the evening or the very early morning before sunrise — it's that popular (and with good reason!).
The trail begins immediately behind the lodge at Johnston Canyon Resort. It shadows Johnston Creek throughout the canyon all the way to Lower Falls. At various points there are iron bridges attached to the canyon walls that let you pass over the swift and noisy creek.
After a hike of 1.1 kilometers, you reach the Lower Falls. One of the aforementioned bridges crossed the creek here, giving you a straight-on view of this whitewater cataract. Want to get up close? There is a short tunnel through the canyon bedrock behind the falls.
Back on the main trail, you continue up the canyon via more catwalks and broad, well graded trail. There are many viewpoints overlooking the canyon and a small waterfall. Once you reach the Upper Falls there are two viewpoints: the bottom of the falls via a side-trail and catwalk leading to a viewing platform. A short climb on the main trail takes you to the top of the falls and an another viewing platform, which hangs out over the gorge above the waterfall.
A word of warning here: the fences near the edge are there for a reason. Sometimes people insist on climbing through, under, or around the fences to get closer to the falls – and sometimes people fall. When they do, they are swept over the falls, and do not survive. So be please be careful all along the trail, and respect the barriers near the falls.
If you're still feeling fresh after hiking to the Upper Falls, you can continue to the Ink Pots, another 3 kilometers from the falls. These are seven cold mineral springs bubbling to the surface in the open meadows beside Johnston Canyon Creek. The trail from the Upper Falls climbs out of the canyon and joins a trail from Moose Meadows before dropping down to the springs.
Unlike many of the hot springs found throughout the region, these maintain a constant temperature of 4 degrees Celsius. This spot also offers views of the Johnston Creek valley.
To get to the Johnston Canyon trail take the Bow Valley Parkway west from its eastern interchange with the Trans-Canada Highway to Johnston Canyon, a drive of 17.5 kilometers. The parking area is on the east side of Johnston Creek. From it follow the trail leading across a footbridge to the lodge and trailhead on the opposite side of the creek.
click here for

Yamnuska Mountain Adventures

200 – 50 Lincoln Park
Canmore, Alberta

---

---

click here for





Banff, Alberta

---

---