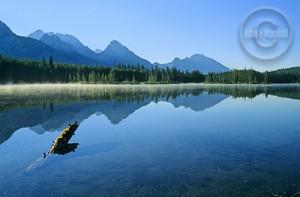 Canada travel vacations in the Canadian Rockies means sporty adventures by day, and equal relaxation by night. Hiking in particular is an outdoor activity that's free and enjoyable by many, and those staying in Canmore, Jasper and Banff will have many trails to choose from. In the evening, rest those feet and sink into a comfortable setting in Banff hotels, Jasper inn and Canmore inn and suites.
Canmore shines in rugged paths leading to scenic views, and there is plenty of Canmore accommodation available throughout the year. Canmore lodging ranges from Canmore rentals, Canmore condos and Canmore bed and breakfasts, now all that's left is knowing where to hike. Here are some recommendations for hikes around the Canmore area ranging from easy to moderate and expert. Regardless of hiking ability, don't forget your hiking shoes!

Easy: Heart Creek
A fun and flirty trail with lots of natural life to be seen. This trail begins along the highway pull-off, as hikers shortly follow the highway and then walk along the Heart Creek. Heading upstream towards Bow River, this walk is peaceful and relaxing, with a view of big limestone rocks frequented by expert rock climbers. The finish line is at the small waterfall waiting for Heart Creek hikers, and it's possible to get a closer look at the cascade if hikers can stand a little bit of wet feet afterwards.

Moderate: Skogan Pass
Hikers ready for more of a challenge should head to the country near Dead Man's Flats and tackle Skogan Pass. From Alpine Resort Haven to the top of Skogan Pass, this is a 10-kilometer hike climbing 677 meters (2,221 feet) upwards. The ease of the hike lies within its open path that's a clear and wide fire road. As hikers ascend to the summit a beautiful view of the town of Banff and the rugged Cascade Mountain is their backdrop — an added touch of nature for pauses and lunch stops along the trail. On the way back, hikers can either return on the same trail or turn at marker 20.3 for a nice wander along Ribbon Creek Trailhead.
Expert: Heart Mountain
Here's a challenge for the hikers who want full-on exercise, sweat and adventure in the wilderness. This is an experts only trail because it moves up up up, with no switchbacks for easygoing hikers. Begin at the Heart Creek Day Use Area and follow the Heart Creek Trail. Continue up the ridge and begin climbing upwards until arriving at the summit. It's hard work, but the ending view is a magnificent shot of the Bow Valley.