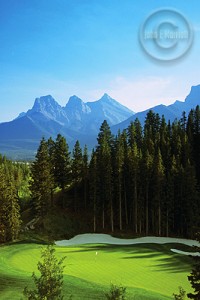 The summertime brings a variety of outdoor sports to dabble in when looking for Canada travel spots in and around the Canadian Rockies. Natural outdoors around Banff, Jasper and Canmore offer extreme sports like rock climbing and mountain biking, with excellent Banff hotels, Jasper inns and Canmore inn and suites. Canmore accommodation shines in value and variety, from Canmore hotels to Canmore mountain lodges. Either way, planning an adventure to the area suits all vacation types from families to couples.
Besides partaking in the rugged wilderness sports, there are ways to enjoy the beautiful wildlife in a simpler and more relaxed fashion such as Canmore golf. The SilverTip Golf Course in Canmore does just that, with its par-72 course and a 600-feet elevation change surrounded by breathtaking scenery.
The slope ratings sits at 153, though the course length varies from 5,100 to 7,200 yards depending on the tee placement. The course is easy to get to and is located off of Trans-Canada Highway/Highway 1. SilverTip is 90 kilometers west of Calgary and 23 kilometers east of Banff National Park.
SilverTips's slogan Golf on the Roof of the World couldn't be more true, as each hole offers a different, majestic and incredible alpine scene. Designer Les Furber made sure that the course carried different scenic views within each walk, from the glorious Three Sisters to thick alpine woods and glimpses of cozy Canmore.
The SilverTip is known throughout the area as a prime locale not only for golfing, but also for dining, wedding events and business meetings in a classy and elegant environments nestled within the Canmore Canadian Rockies. A nice change of pace from the adventurous outdoors, check out SilverTip and its beautiful golf course.
For more information and bookings call 877-323-3633 or 403-678-2838