Hike the Cave and Basin Marsh Trail and Experience Banff National Park History and Canadian Rockies Riparian Habitat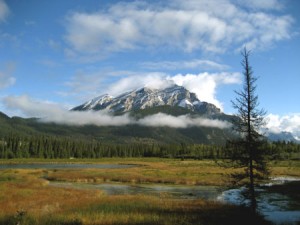 This 4.3-kilometer trail starts at the Cave and Basin historic site above Banff, Canada and descends onto a paved trail; at one time it was used to be a road before being designated as a walking and bicycling path.
It then continues onto the Cave and Basin Marsh Trail. The Marsh Trail meanders along the banks of the Bow River for bit before climbing up for a short way towards Sundance Canyon.
On this part of the trail you'll encounter a trail junction; the Sulphur Mountain trail, which branches off to the left, goes to the summit of its namesake; the branch to the right goes onto Brewster Creek and Sunshine Road. Go straight at this junction to head onto Sundance Canyon.

When you arrive at the Sundance Canyon Picnic Area the paved trail – and consequently bicycle access – comes to an end. The trail gets somewhat steep here as it continues on before looping through Sundance Canyon and heading back to the picnic area.
Along the way you have a few options if you're looking for a shorter or easier hike. You can take the Marsh Loop trail where it branches right form the Sundance Trail where the paved trail first meets the river. It continues to follow Bow River to a local marsh before returning to the Cave and Basin parking lot.
Another option is to follow the Healy Creak trail, a roadbed that branches right form the Sundance Trail at the 2.2 kilometer marker and follows the south side of the Bow River Valley before crossing Brewster Creek trail at 2.9 kilometers and Sunshine Road at 4.6 kilometers. This trail is also popular with bikers and cross-country skiers.
To get to the Cave and Basin trail proceed from the intersection at the south end of the Bow River bridge in Banff. Follow Cave Avenue west a short distance to the parking area for the Cave and Basin Historic Site. Follow the paved walkway through the complex the trailhead. If you want to combine some activities, take the Sulphur Mountain trail from its junction before you get to Sundance Canyon; you can then take the Banff gondola back down to the bottm.
While you're here, you can enjoy the nearby interpretive trails and the historic site itself; this is the birthplace of Banff National Park and the Canadian National Park system – right here in the Canadian Rockies.
click here for

Yamnuska Mountain Adventures

200 – 50 Lincoln Park
Canmore, Alberta

---

---

click here for





Call Toll Free (888) 659-3394 or local 403-774-7219
211 Bear Street
Bison Courtyard
Banff, Alberta

---

---