Hiking the C Level Cirque Trail Will Bring You Incredible Views of the Canadian Rockies, Mining History, and Geology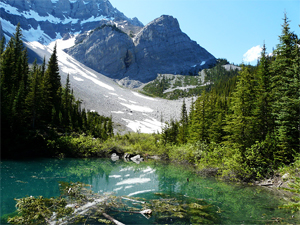 History buffs and nature lovers will both want to check out this Banff National Park trail, which reveals a bit of the mining history of Western Canada, as well as incredible views of Lake Minnewanka, the deep alpine lake that lies just a few kilometers northeast of Banff, Alberta.
The trail begins its climb through pleasant mountain forests and meadows before reaching the town of Bankhead – we should say, "former town" of Bankhead, where there isn't much but the remains of the anthracite coal mining operation – buildings from the "C Level operation" — that existed here from 1904 to 1922. The town itself was laid out in the valley below. The coal seam worked here was the highest on the eastern slope of Cascade Mountain.

It is at this spot where the mining operations once took place that one can take in views of Lake Minnewanka below. As the trail continues to climb past this spot, hikers will pass several fenced in holes in the ground; these are vent holes from the mine shafts below ground. As you climb you will enjoy views of nearby peaks, such as Mount Rundle, as well as Bow Valley.

The trail continues on until it reaches the cirque. What's a cirque you ask (unless, perhaps, you speak French)?
It is a bowl-shaped depression created by a glacier in the mountains. While the glacier that created the C Level Cirque is no longer there, we should note that snow can often be found in the cirque well into mid summer. The soil here is rich, and in late summer one can spy the yellow lilies commonly associated with glaciers in this region.
To get to the C Level Cirque, take the Trans-Canada Highway to the Banff East Exit interchange, follow the Lake Minnewanka Road to the Upper Bankhead Picnic Area. The trail begins at the far end of the picnic area parking lot.
click here for

Yamnuska Mountain Adventures

200 – 50 Lincoln Park
Canmore, Alberta

---

---

click here for

Call Toll Free (888) 659-3394 or local 403-774-7219
211 Bear Street
Bison Courtyard
Banff, Alberta

---

---