Fishing the Canadian Rockies: Grab Your Pole and Catch Your Dinner
or Just Kick Back and Relax in Banff National Park
It was Thoreau who said "time is but the stream I go a-fishing in.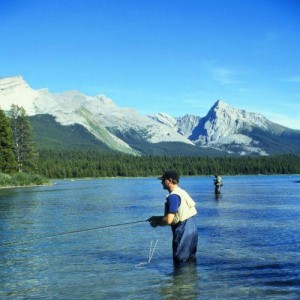 Its thin current slides away, but eternity remains."
And that's kind of how it feels when the fish aren't biting (trust us, we know). But then another wise man further observed that "a bad day's fishing is better than a good day at work." We heartily agree.
Anyway, whether you see trout fishing as a spiritual exercise — a time for meditation on the self — or just a good way to relax while on vacation, the Canadian Rockies of Western Canada are an excellent place in which to do it. Naturally there are some excellent spots for fishing around Banff, Alberta.
The upper Bow River, running directly through Banff National Park, is known worldwide among anglers for opportunities to catch brown trout (up to 10 lbs/4 kg), Rocky Mountain whitefish (to 5 lbs/2.2 kg), and the occasional cutthroat, brook, and bull trout.
Lake Minnewanka, the largest lake in Banff National Park, located just minutes northeast from the city of Banff, is another well-known destination among lake trout anglers.
Several local guides and outfitters are available to lead angling trips, including Banff Fishing Unlimited, Alpine Anglers and Lake Minnewanka Boat Tours. A National Park Fishing Permit is required. Angling season runs April through October.
Fly Fishing
The fly fishing season begins in May and runs through to October. Dry fly fishing peaks in July, August, and September. Fly fishing guides include Tightline Adventures, Hawgwild Flyfishing Guides, Banff Travel, Alpine Anglers, Upper Bow Fly Fishing Company, and Banff Flyfishing.
And remember: "There will be days when the fishing is better than one's most optimistic forecast, others when it is far worse. Either is a gain over just staying home."
Want first hand advice on where the fish are biting? New to fly fishing? Let the folks at Banff Travel arrange your fishing trip in Banff National Park. Walk and wade or drift in a boat, the choice is yours.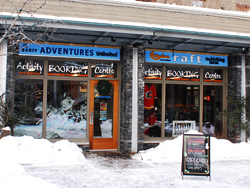 click here for
Banff Travel
Call Toll Free (888) 659-3394 or local 403-774-7219
211 Bear Street
Bison Courtyard
Banff, Alberta