Canmore, Alberta offers great access to some of the Rockies best areas to explore. This includes Jasper National Park. Although it's not as close as Banff National Park or Kananaskis Country, you'll certainly want to make time to visit Jasper on your vacation.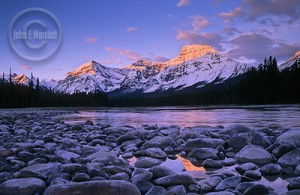 Jasper National Park contains some of the Rockies most picturesque peaks, pristine lakes as well as famous Rockies wildlife such as elk, grizzly bears and beavers. Jasper is the largest national park in Canada, encompassing 10,878 sq kilometers of the majestic Canadian Rockies. You can get a good look at it with the Jasper web cam.
Truly one of Jasper's biggest attractions are the Columbia Icefields. These icefields are the largest this far south of the Artic Circle, and feed the amazing glaciers you'll see as you drive along icefields parkway between Banff and Jasper. The most famous of these is the Athabasca Glacier, which you can touch, hike on, drive over in specially built 4 wheel drive vehicles, and fly over on heli-tours.
Besides seeing the sites, you'll definitely want to check out some of the vacation activities Jasper National Park offers. Here you can ski, mountain bike, raft, boat, fish, hike, backpack, camp, and participate in many other great activities.
Despite the vast untamed wilderness that surrounds it, Jasper is home to some world-class lodging, restaurants and shopping. You'll also find some great places to knock back a brew with friends at the end of a long day in the woods. Jasper offers the vacationer the perfect combination of outdoor activities, beautiful sights, and luxury relaxation opportunities.