While Jasper National Park isn't the closest outdoor recreation area to Canmore, Alberta, it's certainly worth a visit if you have time to make the 4 hour drive. Keep in mind that this drive is one of the most scenic there is in the Canadian Rockies, taking you right through Banff National Park and past the Columbia Icefields.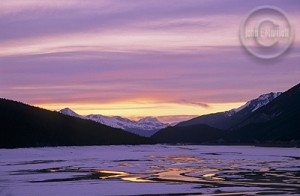 If you decide to make the trip to Jasper National Park, one of the best places to visit is Maligne Lake and Maligne Canyon. If you need anymore convincing on a Jasper trip, take a look at the Jasper webcam.
This is a great area to do some of the best in Jasper activities including sightseeing, photography, walking, hiking, canoeing and whitewater rafting. To get to the Maligne area, travel about 7 km east of Jasper township on Highway 16, and get on Maligne Lake Road.
As you drive this winding road, keep your eyes open for wildlife. Many a grizzly has been seen wandering its isolated hillsides and lakeshores. There is also the potential to spot a black bear, elk, moose, mule and white-tail deer, bighorn sheep and mountain goat. A camera and film are essential, but please stay in your vehicles when you see animals and please keep a safe distance between your vehicle and the wildlife.
View at Hanging Valley
About 6 km into your drive to Maligne Lake, you'll see a sign on your left for the Hanging Valley Viewpoint. Watch the odometer so you don't miss it. This a great place to see a panoramic view of the Athabasca Valley and the town of Jasper. The Maligne Valley is a classic hanging valley that sits at a higher elevation than nearby Athabasca Valley, so you'll get a bird's eye view of the area.
Across the valley from the viewpoint, you'll see Pyramid Mountain looming with its CNCP telecommunications tower on the summit. Just a little to the left of the Jasper town site, Whistlers Mountain with its ever-present Jasper tramway decorate the skyline.
Maligne Canyon
Just a few km after you leave the Hanging Valley Viewpoint, you'll take a left into the Maligne Canyon day-use area. This is a where you'll see one of Jasper's great geological marvels.
The trail at Maligne Canyon is well kept, but it is very steep at times, so don't try to do it in a rush, or you'll be so out of breath you won't be able to appreciate the beauty. Glacial melt carved Maligne Canyon very deep but also very narrow.
Because of its unique landscape photographers love coming to Maligne Canyon. As enthusiastic as you may be for photography, avoid the temptation to climb over fences and other barriers to get your photos. Photographers have literally died doing it.
Maligne Lake
When you get to Maligne Lake, you'll know you're at one of the most picturesque spots in the Canadian Rockies. Carved between Leah Peak, Samson Peak and Mount Paul on the left and Mounts Charlton, Unwin, Mary Vaux and Llysfran Peak on the right, it offers some of the best photography you'll find on your vacation.
Maligne Lake formed when a landslide off the surrounding Opal Hills released almost almost 700 million-yd³ (500-million-m³ ) of material into the lower valley. This created a natural dam that allowed Maligne Lake to form. Fish stocking in the early part of the century has turned this into a fisherman's paradise. Just remember to get your National Park fishing license before casting in your reel.