Canmore, Alberta has plenty of great outdoors to see nearby, mainly Kananaskis Country and Banff National Park. But if you have the time, you should really visit Jasper National Park as well. It's a four hour drive away, on Icefields Parkway, one of the most beautiful scenic highways in the Rockies.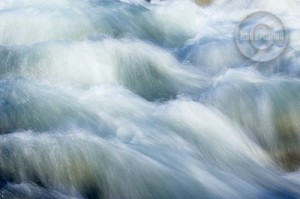 Jasper offers plenty of great activities, including hiking, mountain biking, skiing, backpacking, rafting and more, and lots of great sightseeing opportunities. The Maligne Valley, which starts on Maligne Road about 7 km east of Jasper townsite on highway 16, offers some of the best, including Medicine Lake and Rose Marie's Rock.
To get a good look at Jasper from the comfort of your own computer, check out the free Jasper webcam.
Medicine Lake
Much of the drainage from the surrounding peaks of the Canadian Rockies washes through the Maligne Valley via a hidden drainage network of caves. Medicine Lake illustrates how this underground drainage system works. Every Autumn, as the land dries up, the lake disappears. Really. Medicine Lake is basically a large basin with the drain wide open.
When the tap running at full blast during snowmelt season, the basin will fill with water despite the water running down the drain. When the tap gets closed toward the end of summer, once all the snow has melted, the water drains faster than the lake can be filled.
More than 4,000 gallons (24,000 liters) of water go down Medicine Lake's drain every second.
The cave drainage system beneath Medicine Lake resurfaces below Maligne Canyon, more than 11 mi (17 kilometers) downstream. This makes it as the longest underground drainage system in all of Canada. Twice attempts were made to plug the drain, once using old mattresses, the other using magazines—neither of these odd attempts had any effect.
Medicine Lake also provides some excellent Canadian Rockies fishing. Its quiet waters teem with eastern brook trout. The fish were stocked in 1927, and somehow managed not to get washed down the drain, but rather flourish.
At mile 22 (kilometer 35), the road passes the takeout point for kayakers and whitewater rafters. Keep your eyes open for some of these icy Canadian adventurers. The waters of the Maligne River don't rise far above the freezing point, but despite its chilly nature, the stretch between Maligne Lake and this pullout represents one of Alberta's most popular rafting destinations.
Rose Marie's Rock
About 41 km down Maligne Lake Road you'll cross a bridge over the Maligne River. Looking upstream, a large rock is visible in the middle of the river. This rock can be seen din the the 1953 classic Rose Marie, starring Howard Keel and Ann Blyth. No, Nelson Eddy didn't sing to Jeanette Macdonald here, despite the sign in the Maligne Lake Restaurant! It was the remake of this classic movie that was actually filmed here.