Canmore, Alberta is known for having plenty of great mountain biking trails in town, and in nearby Kananaskis Country and Banff National Park. But while you're here, you may want to take the bike on a short road trip up to Jasper National Park to try some trails up there.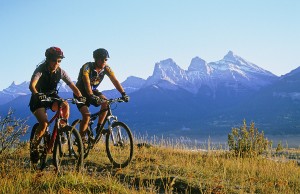 Jasper National Park is the largest of the Canadian Rockies parks, and offers plenty to do for the ambitious mountain biker. You'll also find great restaurants, hotels and pubs in towns to unwind at after a long day on the trails. If you still need some convincing, check out the Jasper webcam for a sneak peak at the town and surrounding mountains.
Below you'll find a selection of mountain biking trails around Jasper National Park.
The Overlander Trail
You'll find the trailhead 20 km east of Jasper on Hwy 16. Look for the trailhead at the second parking lot when the highway crosses the Athabasca River. The trail parallels the river, which makes for great views. Close to the end of this trail you turn down a right-hand fork and cross a small creek (don't worry, there's a bridge). Continue on the edge of the river to the junction of the Maligne and Athabasca rivers at Sixth Bridge picnic area.
Distance: 14 km
Level: Beginner to Intermediate
Saturday Night Loop
Trail guide: Find the trail head on the west side of Jasper just before The Cabin Creek West subdivision. Take the trail leading from the parking lot on the left. The trail takes you uphill, following a low ridge with nice views of the Athabasca and Miette Valleys.After From High Lakes to Saturday Night Lake you'll find swampy sections, but from there to Cabin Lake is easy riding. After Cabin Lake, ride along the fire road to the intersection with Pyramid Lake Road and take a right to return to Jasper.
Distance: 27.4 km
Level: Advanced
Athabasca River Trail
This ride starts at the Old Fort Point the trail, and goes behind the beautiful golf course at The Fairmont Jasper Park Lodge. The first 12 km have some solid uphill segments that'll get your blood flowing. Remember, no bikes between the first and fifth bridges on the self-guided trail at Maligne Canyon. Avoid this by riding down Maligne Road to the Fifth Bridge turnoff 3 km below. Cross the bridge and pedal to Trail #7 on the far side. Take a left to Sixth Bridge and continue along the trail runs beside the Athabasca River to Old Fort Point, or head back to Jasper along Highway 16.
Distance: 23 km
Level: Beginner to Intermediate
The Mina-Riley Lake Loop
Trail guide: You'll start at the parking lot opposite Japser's Aquatic Center. The trail climbs steeply to the left, then intersects with the Cabin Lake fire road. Cross the road and pedal past a big pond continuing on to Mina Lake. At about 3.5km from the lake a marked trail leads down a steep hill to Riley Lake. Turn around at the intersection with trail #6 (no bikes allowed on 6). Head back using the main trail by turning left onto the fire road at km 7. A right turn onto the paved Pyramid Lake Road will lead you back down to Jasper.
Distance: 9 km
Level: Intermediate to Advanced
Here's are 7 Rules of the Road for mountain biking in Banff, or anywhere, really:
1. Ride open trails only. Respect the trail and avoid areas which are closed to bikes. They are closed for a reason. Seriously, no one is trying to hide trails from you just to ruin your vacation. Also, remember that the way you ride will influence Parks Canada trail management decisions and policies.
2. Always yield the trail. Make your approach known well in advance. A greeting, a bell or some other noise is basic politeness; don't startle others. Show respect when passing by, slowing to a walking pace or, if need be, stopping. Anticipate trail users around corners and in blind spots.
3. Put a lid on it! Always wear a helmet.
4. Don't scare the wildlife. You don't like it when someone sneaks up on you, and neither do wild animals. Usually, the repercussions of doing this with a bear are worse though. Avoid unannounced approaches, a sudden movements, or a loud a noises. These actions can be dangerous for you, others, and wildlife. Give wildlife space and time to adjust to you, and make some noise as you come down the trail.
5. Plan it, darn it! Know your equipment, be honest about your abilities, and check up on the riding trail, preferably with a park ranger. Prepare accordingly. A little planning is often the difference between a horrible day and an awesome day.
6. Stay in Control. Don't go faster, or attempt terrain that you know you can't handle. Always be attentive and mind bicycle regulations and recommendations.
7. Leave no trace. It's everyone's park, so treat it with respect by following a few simple rules. Stay on maintained trails and don't create new ones. Pack out what you pack in, and bonus points if you pack out some other jerk's discarded rubbish.
Keep trails open by setting a good example of environmentally sound and socially responsible off-road cycling.