Canmore, Alberta is a great place for Canadian Rockies vacations, offering both Kananaskis Country and nearby Banff National Park as your outdoor vacation playground while you're here. But if you've got the time, you should certainly consider heading up the Jasper National Park for a bit.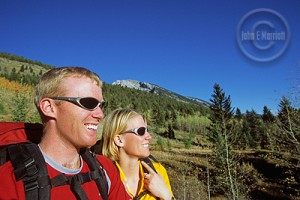 One of the great things about Jasper are it's scenic drives. You'll experience on of the best drives on the way here from Canmore, along the famous Icefields Parkway, where you'll see the Columbia Icefield. But there are several other great scenic drives worth checking out in Jasper, including the Grande Alberta Trail.
This first-class highway will bring you to some fantastic, and remote, places for Jasper vacation sightseeing. You'll find lots of outdoor activities along the way, such as birdwatching or fishing, as you drive through this amazing part of the Rockies.
Make sure to keep your camera ready too, not only are there great mountainous backdrops for your photos, but you've got a good chance to see some Jasper wildlife here, as well as rushing rivers, snow-capped mountain peaks to pristine blue-green lakes.
The drive starts in Edmonton, Alberta. From there, head west on Yellowhead Highway to the Pembina River Provincial Park, known for its excellent hiking and fishing opportunities.
Be sure to check out the town of Rockies town of Entwistle along the way, which is full of elegant historic buildings along the main street.
Also, the town of Hinton is a great place to spend the night, sitting right in front range of the Canadian Rockies. Here you will find the northern reaches of Jasper National Park where you can explore and interesting and remote terrain.
This is a great place to take a guided tour, whether it's a hike, an ATV trip or a helicopter tour, you will surely enjoy the park's natural riches. Drive south on Highway 40 just outside of Hinton to visit the Cadomin Caves, which you must explore with a qualified guide.
When you get back on Highway 40, head north to Grande Cache, the gateway to Willmore Wilderness Park. With over 700 km of hiking trails, you will be deep into unspoiled nature, with huge expanses of rivers and snowcapped mountains. Take a raft or kayak out on Muskeg, Sheep Creek or Smoky River; take your binoculars for an inspirational day of bird watching, rent a mountain bike, take a jet boat excursion or saddle up for a horseback ride through the forests.
If you can tear yourself away from Grande Cache, continue on Highway 40 to Grand Prairie, a beautiful area filled with rolling grasslands. Surrounded by parks and lakes, the region boasts millions of years of history. Don't miss the 27 meter high waterfall in the Wild Kakwa Recreation Area. Other areas of interest include Crystal Lake, Kleskun Hills Park, Evergreen Park, Muskoseepi Park, the Grande Prairie Museum and the Prairie Art Gallery.
Once back on the trail, you will wind your way east and south on Highway 43 on your trip towards Whitecourt. Anglers will thrill to the plethora of northern pike, perch and walleye found in Sturgeon Lake, so make sure you spend some time in this spectacular locale. Once in Whitecourt, known as the "forest center of Alberta," you can take a tour of a pulp mill, newsprint plant, sawmill or fiberboard plant. Then get back to Highway 43, which turns into Highway 37 to arrive in Alberta's capital city, Edmonton.