One of the highlights of a vacation to Canmore, Alberta is a is visit to Jasper National Park. Although it's a bit further from Canmore than Banff National Park or Kananaskis country, you'll find it's certainly worth the effort, especially considering the awesome scenic drive you'll experience on the way.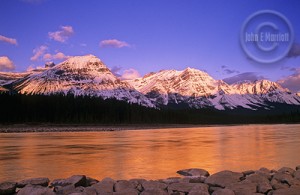 Jasper National Park is a great place to participate in Canadian Rockies activities. You'll find great rafting, hiking, backpacking, skiing, mountain biking and much more.
Take a good look at Jasper
Want to see Jasper right now? Check out the Jasper webcam. This webcam allows you to control it yourself, you can move it 360 degrees, zoom in and out, and snap photos to share with friends. It's free, in fact, you don't even need to register to use it.
Jasper Tramway
If you're in Jasper already, then the best way to get a look around the area is the Jasper Tramway. This is one of the best ways to take in all the scenery of Jasper National Park for all visitors, and to get good photographs, see wildlife, and just generally take in Jasper. Check out this hand Jasper tramway guide for more info.
Getting to Jasper
The train is one fun way to get to Jasper any time of year. The half-day train rides run year-round, three times a week. Railway journeys to the British Colombia interior is with VIA Rail Skeena.
Daily buses (in summer) to Jasper from Calgary, Canmore, Banff and Lake Louise.
Greyhound also has regular bus service to Jasper from both Vancouver and Edmonton.
Jasper Vacations runs daily shuttle service to Jasper from Edmonton and Edmonton airport.
Getting Around Town
Mr. Taxi is a good local option if you have not rented a car.
Where to Eat
Jasper has a wide variety of restaurants, offering everything from ethnic foods to fine dining, burger joints to great places to pick up a big breakfast before heading out for a hike. Check out this Jasper restaurant guide to get the info you need.