Canmore, Alberta is surrounded by excellent places to see the natural beauty of the Canadian Rockies. While Jasper National Park may not be the closest, at about 4 hours driving distance from Canmore, it's certainly worth checking out if you have the time.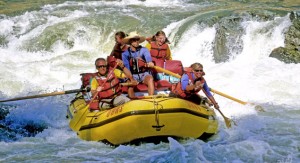 Jasper is the largest national park in the Canadian Rockies, and offers many outdoor activities to enjoy while you are there, including hiking, biking, rafting, backpacking and more. It's is also a great place to take your family on vacation. You'll find plenty of vacation activities here to keep yourselves entertained, and your kids from getting bored. Below are some recommended kids activities for Jasper. If you want to get a good look at the town of Jasper and surrounding park land, be sure to check out the Jasper webcam.
Put the Jasper in Jasper: The town of Jasper, located in Jasper National Park, offers plenty of interesting shops, ice cream parlors and restaurants that can be fun for the whole family. The towering peaks of the park are almost always visible, so you can enjoy the scenery even when you're in town.
Man the Oars: Whitewater rafting is a great way for families to bond, and Jasper National Park's Athabasca river is suitable for all levels of rafters. You can float this river in a 20-person raft, suitable for even younger children.
Maligne Canyon and Lake: Walk over six bridges for inspiring vistas of Jasper's limestone gorges and waterfalls. Learn more about Maligne Lake.
Vacation on Ice: The Columbia Icefields are one of the top draws for tourism for Jasper, and for good reason. These massive icefields are truly stunning. You can go out onto the glacier in an ice buggy. Older kids will enjoy a river float trip, which is a fun way to spend the day.
Jasper Tramway: Canada's highest aerial tram is the Jasper Tramway, just outside of Jasper. In just seven-minutes you'll reach an altitude of 8,000 feet. A guide shares the history of Jasper as you look out over the spectacular Canadian Rockies scenery of Jasper and the entire Athabasca Valley.
Go with the Pros: There are many talented guides in Jasper that can take you and your out and show you the best places in the park, help you safely look for area wildlife, and learn about the park's history, ecology and more. It's an excellent way to get the most out of your Jasper vacation.
Hike!: There are many great trails all around Jasper that are perfect for younger children, including The Discovery Trail, located on the edge of Jasper townsite, and Lake Annette Loop. Your kids will have fun on these easy trails, and they're close enough to town that you can head back whenever you need to.
Snowtubing: The whole family can enjoy this one, and everyone can burn of some energy, and some adrenaline, and have loads of fun.
Museums: Looking for a more relaxed day? Spend some time in the local museums. You can learn about Jasper history at the Yellowhead Museum or see the many wildlife displays at the Wildlife Den in Whistler's Inn.
Go Fishing: Rent fishing rods for the whole family and buy bait at the boathouse.
Horseback Riding: During the summer, take a morning or afternoon trail ride that heads out from the Maligne Lake Lodge to the top of the Bald Hills. The rides are from three to four hours long, so this is best for older kids. They will appreciate the wildflower-covered meadows and views of ice-capped mountains that Jasper offers along the way.