Jasper National Park, although not as close to Canmore, Alberta as Banff National Park and Kananaskis Country, should certainly be on your list of places to visit if you're going to be in Canmore, and have the time.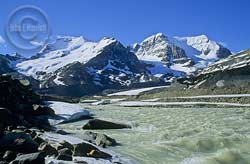 Jasper is the largest national park in the Canadian Rockies, with many, many kilometres of trails to hike, and the famously beautiful Columbia Icefields, which are truly an amazing site.
Jasper is a great place to enjoy the many outdoor activities the Canadian Rockies have to offer. The summer activities season typically runs from the beginning of May until the middle of October. It's a great time for hiking, rafting, mountain biking, backpacking and much more.
Interested in visiting Jasper yet? If you'd like to get a good look at Jasper right now, visit the Jasper webcam, where you can see the town of Jasper and the surrounding national park live, with a user-controlled camera. It's free, and you don't even have to register to use it.
If you're already in Jasper, the best way to see the area is probably on the Jasper Tramway. This is one of the best ways to take in all the scenery of Jasper National Park for all visitors, and to get good photographs, see wildlife, and just generally take in Jasper.
There are several options for getting to Jasper. The drive takes a little more than 4 hours, and cuts straight through Banff National Park on Icefields Parkway. It's a great drive, worth doing just for the journey. Several local tour companies will also offer guided trips up to Jasper that will show you some of the best the park's have to offer.
Besides all the great outdoor activities, Jasper has a wide variety of restaurants, hotels and pubs. You'll find something for everyone here, whether that be a slice a pizza, or top-notch fine dining.