The Natural Beauty of Banff National Park:
Mysterious Hoodoos, Steaming Hotsprings and Majestic Waterfalls
So wildlife abounds and scenic views are everywhere just outside Canmore, as well as in Jasper, Lake Louise, Banff and Banff National Park — everywhere in Western Canada, really. But there are some fascinating natural phenomena unique to the town of Banff, Alberta, that one can see year around.
Glaciers
Ancient fields of sub-polar ice, glaciers remain landmarks of the Canadian Rockies. Local glaciers include:
• The Victoria Glacier, a hanging glacier at the back of Lake Louise
• Crowfoot and Bow Glaciers, both visible from the Icefields Parkway (Highway 93 North)
• Columbia Icefield, accessible from the Icefields Parkway (Highway 93 North) via Ice Explorer tours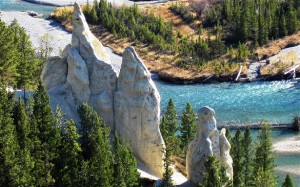 Lakes:
• Lake Minnewanka
• Johnson Lake
• Two Jack Lake
• Lake Louise
• Moraine Lake
• Peyto Lake
• Bow Lake
Hoodoos
These strange – some might even say unnatural-looking — sandstone spires created over thousands of years by erosion and believed to be spiritually significant among First Nations forefathers. Local Hoodoos can be seen from the Hoodoos Viewpoint, along Tunnel Mountain Road.
Natural Hot Springs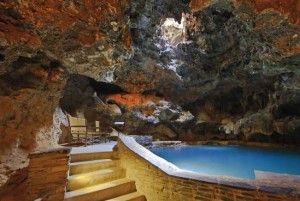 Of course there is the Banff Upper Hot Springs, but there are other local, notable hot springs. For example, a natural hot spring keeps ice off the third Vermilion Lake year-round. Then at the Cave and Basin Historic Site in Banff town one can visit the Cave, which features an interior pool and vent hole; the Basin, home to the Banff Springs snail; and along the Marsh Loop Boardwalk, two smaller springs bubble up from the mountainside, feeding the pools that are filled with pink bacteria, white and green algae, small fish, and insects.
Waterfalls
Bow Falls in Banff and Johnston Canyon along the Bow Valley Parkway are among the most spectacular falls in Banff. Even in the winter months, the ice formations are beautiful. Bow Falls are particularly easy to see – it's just above the confluence of the Bow and Spray rivers, smack dab in downtown Banff!
Looking for a guided tour or hike of some these places in Banff, Alberta? Look no further than the guides at Banff Travel.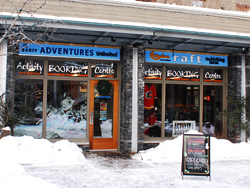 click here for Banff Travel
Call Toll Free (888) 659-3394 or local 403-774-7219.
211 Bear Street
Bison Courtyard
Banff, Alberta