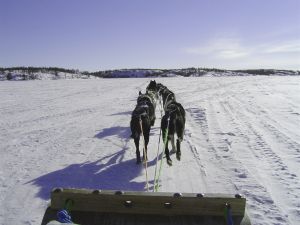 Canada travel and winter activities in the Canadian Rockies are endless. Jasper, Banff and Canmore, Alberta are well-known hubs for sports enthusiasts ready to dive into everything from ice climbing to skiing and ice skating. Visitors come to Canmore for the daytime sports and evening relaxations. Canmore hotels and Canmore accommodations very from inn and suites to bed and breakfasts, though all excel in amenities to keep visitors warm and cozy. Canmore lodging also fits families (like Canmore condos) and long-term visitors (Canmore rentals), making the overall stay pleasant and adventurous.
Visitors ready to try something new and unique should spend a day in the wilderness with man's best friend by way of adventures in dog sledding. A Canadian past time, dog sledding in Canmore is a popular winter activity amongst beginners and experts.
With a guide nearby, experience the rush when driving a sled through the snow as a team of huskies pull through the fields. Those hesitant on taking the reins can be just as pleased with guided dog sledding, and the experience and view is just as different and adventurous.
It's the up-close and personal atmosphere and interaction between humans and huskies that really interests visitors and locals to take part in dog sledding. Huskies have an open nature of being friendly and playful dogs, as well as athletic and sporty. It's a charming venture dog-sled guides harness and offer to visitors, in addition to being a helpful teacher for those willing to learn the ropes on dog sledding.
For thousands of years dog sledding has been encouraged by Canadians each winter. Native Inuits used huskies, and since 1908 the practice has become an official Canadian sport.
Both Canmore and Banff National Park offer dog-sledding services. Regardless of what's on the "To Do" list, mark down a day of dog sledding and enjoy a local tradition and perspective.