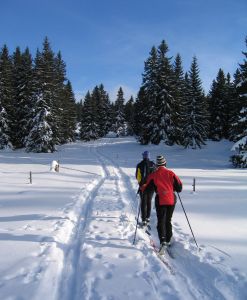 When it comes to Canada travel in winter, the Canadian Rockies glisten with a flurry of snow activity. Visitors come to ski Canada, snowshoe and ice climb, making their way to Banff, Jasper and Canmore to enhance a perfect holiday. Jasper inn, Banff hotels, Canmore inn and suites are more than accommodating and keep visitors cozy when turning in for the night.
Canmore, Alberta, is one are to really dive into a variety of winter sports. And the Canmore Nordic Center is a winter hub for a number of adventures on snow and even in summer. Canmore hotels compliment those looking to check out all the Nordic Center has to offer, and even Canmore rentals and Canmore condos are available for longer stays.
When the Winter Olympics blew through Calgary in 1988 Canmore built their Nordic Center to host many of the events. Since then the center has grown in popularity and maintains a top-notch reputation in the world of winter athletics across North America. Its 2005 renovations for the Cross-Country World Cup only enhanced the sophistication and professional design, making it ready for future events.
Administered by Alberta Development and claiming provincial park status, the 60 kilometers (37 miles) of trails are well-maintained throughout the year. In the summer the trails are popular with hikers and mountains bikers, while the winter sees biathlon professionals and cross-country skiers.
Not only do these athletes come to the Nordic Center to tackle the trails, they also hang out to train for upcoming events. The trail systems are standard and reach international nordic competition levels, meaning come winter time trails are constantly groomed and maintained for shape and quality. To top it off, the area includes a 6.5-kilometer (4-mile) track lit by floodlights and available for night use.
Even winter vacationers who like to stay warm and cozy can find premium relaxation at the Nordic Center's Day Lodge. The lodge is equipped with a cafeteria, meeting room, lockers, information area, showers, equipment rentals and lessons.
When summertime rolls around, the Nordic Center and lodge focus on mountain biking events. And as a bonus, the center also holds an 18-hole disc gold course for Frisbee lovers. This activity center is a must-do for any Canmore vacationer any time of year.